Biden's First Days in Office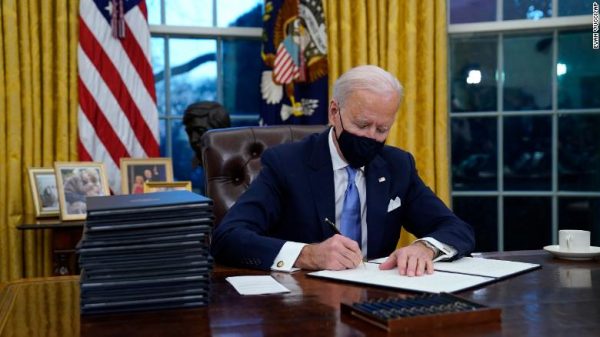 In his first days in office President Biden signed 17 executive orders and directives, overturning many of Trump's orders and foreshadowing many of his policies for the coming years.
Biden repealed a regulation implemented by Trump, which made it easier to hire civil servants. With the many students reliant on the food provided by school lunches, another order signed increased food assistance to lower-income Americans. Pandemic Electronic Benefits Transfer, a program that helps families with food costs, would increase their benefits by 15 percent, and the Emergency Supplemental Nutrition Assistance Program (SNAP), would also expand their eligibility requirements. Additionally Biden directed government agencies to identify ways to mitigate the effects of the economic crisis.
Biden believes that the pandemic spread would significantly decrease if everyone wore masks, therefore mandated masks on transportation systems such as airplanes and trains. In addition, Biden believes that medical development will help defeat the pandemic and save lives. Biden thus directs the secretary of Health and Human Services to support research in COVD-19 treatments and support the national supply chain. President Biden also directed the creation of a COVID-19 Health Equity Task Force to address wealth and racial inequalities exacerbated by the pandemic. The president asked the Education Department to work with the Department of Health and Human Services to give research- based guidance on how to reopen schools. Finally, Biden created a COVD-19 testing board and revoked Trump's order to deport undocumented immigrants.