'The Umbrellas of Cherbourg' Review: A Symbolic Phenomenon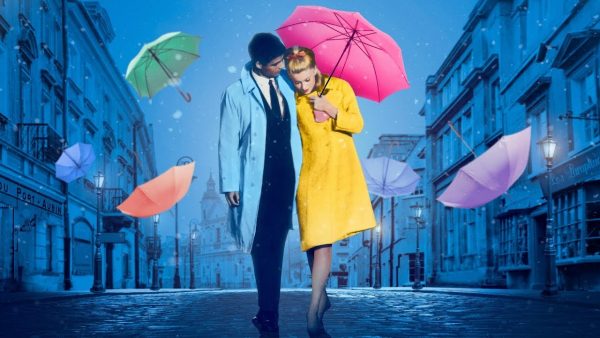 ★★★★½
Bright visuals lead up to a bittersweet ending
A classic unlike any other, The Umbrellas of Cherbourg, directed by Jacques Demy, seamlessly blends comedy, romance, and tragedy into a visually dazzling film bursting with symbolism that represents a sobering reality of love that is rarely seen in cinema. The use of color to underscore the emotion of a scene paired with the movie's exceptional musicality just added to its distinctiveness.
The first notable characteristic of The Umbrellas of Cherbourg is its use of exuberant and vibrant colors that gave it the aura of taking place in a dollhouse. Geneviève and her mother share a home consisting of walls of striking pinks, blues, and purples. Even the fashion in the film uses some bold colors, but there is a reason for this, and that reason is mood. The movie opens with an overhead shot of people walking and holding their umbrellas in the rain. The umbrellas are an array of soft pastels, setting the viewer up for the story about young love that they are about to see. Geneviève's blue bedroom reflects the upset that Guy's departure has caused her. Guy's godmother's apartment is green which represents her state of illness. The closing scene (which may very well be my favorite one) features the leading characters together in a dreary snowy setting after many years have passed, which, to avoid giving away too much detail, very appropriately represents the apogee of the film.
The second significant element of the film was its use of lyrical dialogue rather than regular conversation. Michael Legrand composed the music in The Umbrellas of Cherbourg, which, while often mellifluous and appealing, was not always harmonious with the synchronous events. For example, when Guy is describing the death of three soldiers and the group being attacked using hand grenades, it is sung with the same untroubled effervescence as Geneviève and Guy's discussion about naming their future child Françoise. Despite this, the melodic tone of the film greatly contributed to its uniqueness and was an entertaining attribute.
In essence, The Umbrellas of Cherbourg was phenomenal. Jacques Demy's masterful use of color and musicality truly made this movie a classic of immeasurable quality.