Activists Against 'Cop City'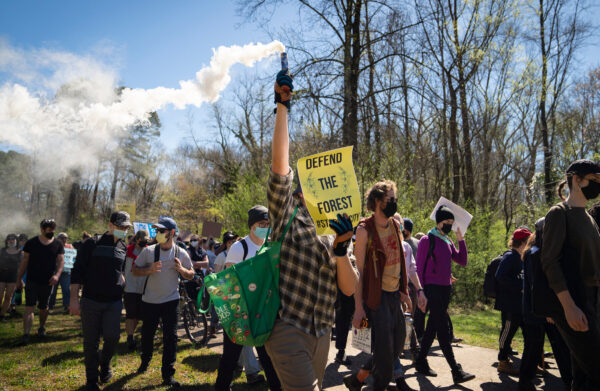 A military training facility in Atlanta dubbed 'Cop City' has had significant opposition since the initial suggestion two years ago. Peaceful protests are what it began as, but recently things have taken a turn for the worse. Environmental Activist Manuel Esteban Paez Teran was shot and killed in January. The autopsy report shows that the bullets went through both of their palms, and 13 shots gunned the activist down. Their hands were raised, they did not resist, and they did not deserve to be shot. Teran was widely known as a pacifist but was murdered for trying to protect the Atlanta Forest. They were a victim of police brutality, and many worry they might be too with the continuation of the project, Cop City.
Cop City, formally known as The Atlanta Public Safety Training Center, is a $90 million project intended as a 'mock city' for the fire department and law enforcement to train. The police training center will be located in Weelaunee Forest, Atlanta. There will be facilities to teach tear gas deployment and raiding and sections for bomb testing and shooting ranges. The training base is supposed to "improve morale and training," but it might unnecessarily weaponize law enforcement.
Why is there such heavy opposition to the project in the first place? The environmental aftermath will be devastating, jumpstarting the campaign "Defend the Atlanta Forest." The nearby South River is becoming endangered, and environmental activists are rising against the potential harm that the training base will induce. The ecological damages are not the only reasons; minorities fear further marginalization as police become more militarized. They feel unsafe and are worried about being subjected to police violence, especially considering the Atlanta Forest is in the heart of predominantly Black neighborhoods. The murder of Manuel Esteban Paez Teran served as a reminder to people of color of the discrimination they face and just how far the law will go to silence their voices. The oppression will only be exacerbated with the construction of Cop City.
Fear plagues the communities in Atlanta as the construction of Cop City refuses to be halted. Recently, the protests against Cop City have magnified tenfold. Protestors are angry and have resorted to assailing construction equipment with Molotov cocktails, bricks, and commercial fireworks. However, they have every right to be furious, as the violence began from the police first. Law enforcement violated the First Amendment right by targeting activists for speaking out against the government. However, it doesn't matter who blew the first shot as it didn't stop the police from arresting and charging 23 protestors with domestic terrorism.