GOP Continues Efforts To Bar Access To Gender-Affirming Care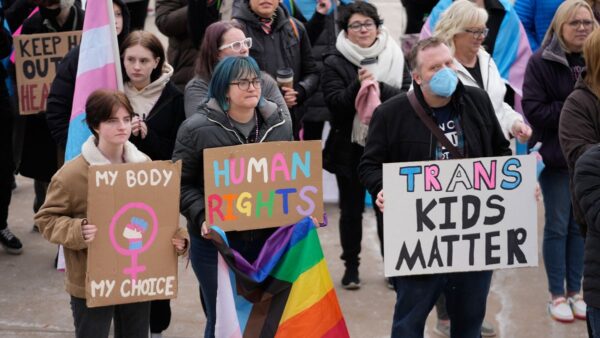 Numerous red states have implemented or considered actions barring access to gender-affirming care for LGBTQ+ youth. Alabama, Arkansas, and Texas have recently enacted such restrictions; however, court rulings have blocked these laws temporarily. At the same time, several other states have passed nondiscriminatory health protections based on race, sexual identity, etc. In 2022, 15 states considered over 20 similar pieces of discriminatory legislation.
In April 2022, Alabama passed a law that makes it a felony to "engage in or cause" a transgender minor to receive any primary gender-affirming care, including puberty blockers, hormone therapy, and surgical intervention—a felony punishable up to 10 years in prison and a fine up to $15,000. As soon as it had passed, four plaintiffs enacted a federal lawsuit, joined by the USDOJ.
In 2021, In an override of governor Hutchinson's veto, Arkansas lawmakers passed a bill that banned primary gender-affirming care for minors, including puberty blockers, hormone therapy, and surgical intervention—the law also probits doctors for giving patients referrals to receive these treatments. Medical professionals could face repercussions relevant to licensing entities. In May of 2021, four families of transgender youth and two physicians contested the Arkansas law in federal court, arguing that the law is illegal sex discrimination under the 14th Amendment's equal protection clause.
In February 2022, Governor Abbott of Texas issued a directive defining certain gender-affirming services for youth as child abuse and calling for the investigation of and penalties for parents who support their children in taking certain medications or undertaking specific procedures, which could include the displacement of their children. Under the directive, medical professionals can also face repercussions and would be mandated to report known use of this kind of care. In the wake of litigation, a state court has entered a temporary injunction preventing the state from enforcing the directive while the case is pending.
The GOP's contention to the LGBTQ+ youth has not been subtle, and the coming weeks of litigation will be crucial for queer youth across America.