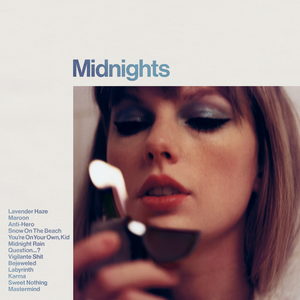 Taylor Swift has released her brand new album "Midnights", which has gained the attention of millions of fans worldwide. According to Taylor, the album is revolved around five major topics: self-hatred, revenge fantasies, "wondering what might have been", falling in love, and falling apart.
Arguably the best song on the album, "Anti-Hero" is a song that has gained my adoration. Some other notable mentions on the album are "Midnight Rain", "Bejeweled", and You're "On Your Own Kid". As somebody who grew up listening to Taylor Swift's songs, more specifically her country genre of music, I've always had a sense of admiration for her work.
However, if I were to compare this album with previous ones, such as "Red" or "Reputation" it feels as if the thirteen songs included in Midnights are not held to the same standard. This album is mostly the genre of pop, and the use of unique melodies can be heard. She has excellent vocals on the songs "Labyrinth" and "Lavender Haze" which deserves the praise it has received.
Overall, listening to this album was a pleasant experience and I am excited to see what Taylor has for her fans in the future.