Super Bowl Matchup is Set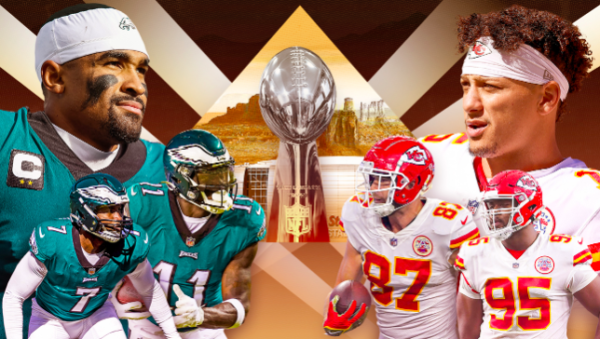 The Super Bowl Matchup is set as the Kansas City Chiefs will take on the Philadelphia Eagles in Super Bowl LVII.
Starting in the NFC, there was a highly anticipated game taking place in Philadelphia. The San Francisco 49ers traveled to Philly in a matchup between the number 1 and 2 seeds in the NFC. All of the cards lined up for this to be an all time great game as the strength of the 49ers defense was taking on the high powered Eagles offense. After a lot of adversity faced by the 49ers and going onto their 4th quarterback of the season, the Eagles proved to be too much for the 49ers as they pulled away in a 31-7 win. The Eagles showed their defense was a force to be reckoned with and their offense has a running game like no other.
Following this game, the AFC Championship was the most anticipated game in recent years. With all of the off field drama between the respective teams and the injuries plaguing the Chiefs, including their QB Patrick Mahomes, this game had all of the pieces to be a great one. It was indeed a great game as a back and forth game ended with the Chiefs kicking an eventual game winning field goal with 3 seconds remaining. The brilliance of Patrick Mahomes, practically playing on one ankle, was evident and his masterclass proved to be just enough to get the Chiefs past the Bengals, who have beaten them 3 times in the past 2 years.
The Super Bowl, taking place in Glendale, Arizona, is a battle of the 1 seeds in their respective conferences and the analysis of this game will be at a high level as the game is in just under 2 weeks.