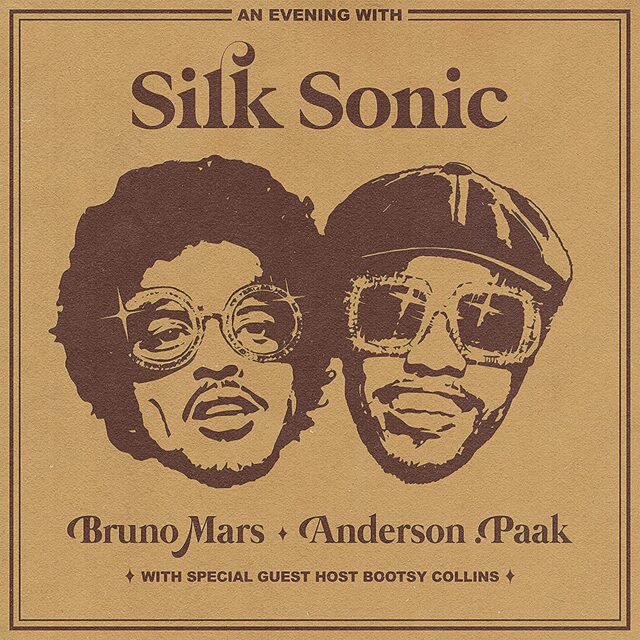 On November 12th, 2021, solo artists Bruno Mars and Anderson .Paak collaborated to make An Evening With Silk Sonic. An album that dives deep into the vintage roots of soul, jazz, R&B, and experimental pop music, An Evening With Silk Sonic is a glorious modern album.
Both Bruno Mars and Anderson .Paak have had successful solo careers. Bruno, who has 14 top 40 singles, 5 number one hits, and 11 Grammy awards, is in what seems like a pairing that was meant to be with Anderson. Anderson has had far less success with only one Grammy but his rise to fame has just begun.
Diving into the album: the listener is given a nostalgic ode from both Bruno and Anderson to classic 70s jazz, funk, soul, and R&B, inspired by legends such as Stevie Wonder, and James Brown. These genres of music are very prevalent in the music as the songs feel ripped out of this time period. If it were not for the 21st-century production on this record, the songs would feel like they came off of a soul album B side.
Some notable tracks from this album are "Leave The Door Open," a dreamy, bound-to-be hit with a dramatic Bruno Mars hook and catchy Anderson .Paak verses, and "Smokin Out The Window," a song that will have you singing along. Both perfectly blend modern pop music with the vintage style of 70s music, perfectly creating a formula for these tracks to hit radio stations. An Evening With Silk Sonic was received wonderfully upon release, debuting at number 2 on Billboard, while also gaining acclaim on TikTok.
This record is a fun and entertaining listening experience that fully embraces what an album should be. I highly recommend it!