What's So Special About the December Issue of Vogue?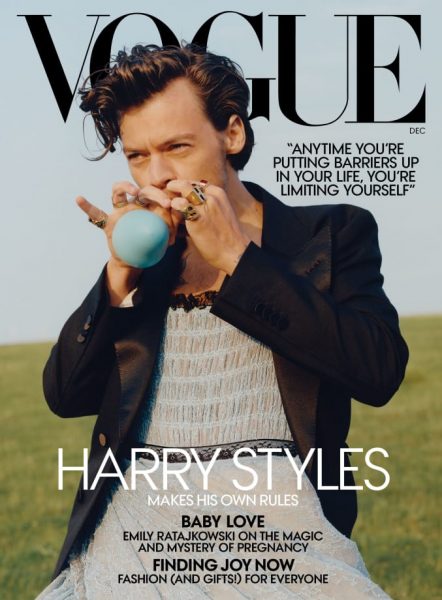 Ah, Harry Styles–everyone's favorite former lead singer of a boy band turned multi platinum solo artist. He found lots of success in his One Direction days, with one hit after another. Same goes for his solo albums Harry Styles and Fine Line, which climbed the charts. Now, he can add another accolade to his list of accomplishments–the first man to be featured on the cover of US Vogue by himself.
In this December's issue, Styles talks about everything from his music to his plans to visit Tokyo to his fashion choices–fashion choices that have smudged the line between traditional menswear and traditional womenswear. In fact, he can be seen on the cover of the magazine donning a Gucci dress.
Harry has been experimenting with clothes from a young age. Gemma Styles, his sister, talked about their mother dressing up the two of them, but Harry being the one who enjoyed it. "Harry also had a little dalmatian-dog outfit, a hand-me-down from our closest family friends. He would just spend an inordinate amount of time wearing that outfit. But then Mum dressed me up as Cruella de Vil. She was always looking for any opportunity!"
Harry draws inspiration from his musical idols: David Bowie, Elvis Presley, Prince, Elton John, and Freddie Mercury. "As a kid it was completely mind-blowing. Now I'll put on something that feels really flamboyant, and I don't feel crazy wearing it….Clothes are there to have fun with and experiment with and play with."
It bears repeating that Styles is the only man to appear on the cover of US Vogue by himself. Men have previously been on the cover, but not alone. Zayn, Harry's former One Direction bandmate, was shown on the August 2017 issue with his girlfriend Gigi Hadid. Among the others are Ashton Eaton with Gigi, Richard Gere with Cindy Crawford, George Clooney with Gisele Bündchen, LeBron James with Bündchen, Ryan Lochte with Hope Solo and Serena Williams,  Ben Stiller with Penélope Cruz, Justin Bieber with Hailey Bieber, and Kanye West alongside Kim Kardashian.
Styles has managed to not only revolutionize music, but fashion as well. His fashion choices have caused him to make history posing stylishly on the cover of the legendary US Vogue–just another reason people can't get enough of him.