COVID-19 Update: Race to Vaccine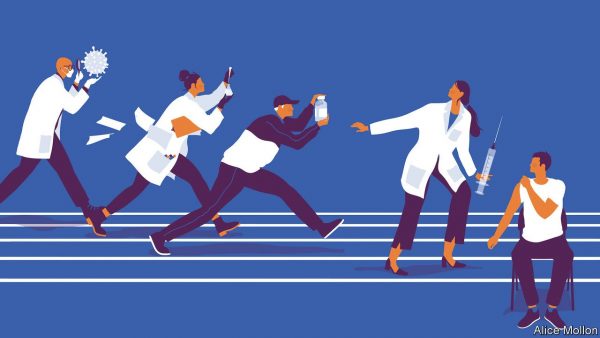 Tragically, the Coronavirus-19 has already claimed approximately 1.4 million lives worldwide and has negatively impacted the lives of everyone. However, the promise of a Covid-19 vaccine gives much hope of a safer tomorrow. Currently, big pharmaceutical companies such as AstraZeneca, Moderna, and Pfizer have all claimed to have a highly effective vaccine in the making that can be safely distributed worldwide with the right clearances.
In early November and December, both Pfizer and BioNTech claimed that their vaccine was greater than 94% effective in adults over age 65, which is the most vulnerable population. AstraZeneca also recently joined in adding global hope by reporting that their late-stage trials of its COVID-19 vaccine are also highly effective but at only 90%. However, AstraZeneca claims that their vaccine is much easier-to-store and more cost-effective, giving the vaccine a possible advantage for developing countries. The AstraZeneca vaccine can be reported 36 degrees to 46 degrees Fahrenheit, while the Pfizer and Moderna vaccines mandate storage at freezing temperatures.
The Pfizer vaccine is the most temperature-sensitive, needing -94 degrees Fahrenheit for efficacy. All three vaccines still need to be cleared by regulators before they can be widely and safely distributed. Given the severity of the pandemic, the world can benefit from multiple vaccines being developed simultaneously. "We need to be able to make a lot of vaccines for the world quickly. It's best if we can do it with different technologies so that if one technology runs into a roadblock, then we've got alternatives, we've got diversity,″ professor Sarah Gilbert, a leader of the Oxford team, said. "Diversity is going to be good here, but also in terms of manufacturing, we don't want to run out of raw materials." On November 22, 2020, leaders worldwide came together at the G-20 Summit to collaborate and stress the importance of global access to COVID-19 tests, medications, and, most importantly, vaccines.
"If we don't have the vaccine available in many, many countries, and we just protect a small number of them, then we can't go back to normal because the virus is going to keep coming back and causing problems again," Gilbert said. "No one is safe until we're all safe." Understanding the significance of globalization and the collaborative efforts needed is very real and can produce major results like the several vaccines.