Yes, The Macy's Thanksgiving Day Parade Will Go On, And Yes, Pikachu Will Be There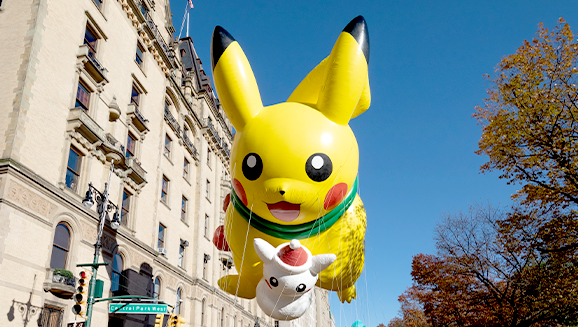 In case you were wondering, yes, the 94th Macy's Thanksgiving Day Parade is set to happen Thursday, despite cases of coronavirus spiking in New York City. Extra precautions are being taken to make sure the parade will be able to continue safely.
The parade will be aired on NBC and Telemundo from 9:00 AM to 12:00 PM on Thanksgiving. In order to allow the parade to run smoothly and safely this year, there are a few caveats. First of all, the parade will not be traveling the typical 2.5 miles through the streets of New York City, as is a tradition for the spectacle. Rather, everything will occur in Herald Square, in front of the Macy's department store. The Rockettes and local bands will be performing, however, they will not be performing for a crowd, as the parade is designed to be for TV only.
There will also be balloons, but they are not going to be handled by the typical group of human handlers. Instead, special vehicles have been designed in order to transport the balloons. Macy's announced on their official parade website that there will be two new balloons this year, the Boss Baby and the Red Titan. However, this year, my eyes aren't on these new additions.
For the 20th consecutive parade, there will be a Pikachu balloon. The Pikachu balloon has been a staple of the celebration since 2001, and although the design has varied over the years, its current iteration features the yellow mouse holding a miniature snowman version of himself. Additionally, a platoon of Pikachu will be set to dance alongside the iconic balloon. The Pokémon Company stated, "Pokémon fans will want to tune in to find out why they're making a special appearance this year." Naturally, speculation abounds, including talk about a follow-up to Detective Pikachu or potentially a new game. However, we won't know for sure until Thursday. 
You're never too old to enjoy the parade, as there's sure to be something for everyone. When asked about if he had heard about the Pokémon announcement and whether he would be watching the parade this year, High School West freshman Devan McCarthy stated "No, but I will be watching the Thanksgiving Day Parade". Although things will be quite different, we're honestly lucky to have a parade at all this year, and we're especially lucky to have an announcement from The Pokémon Company themselves.