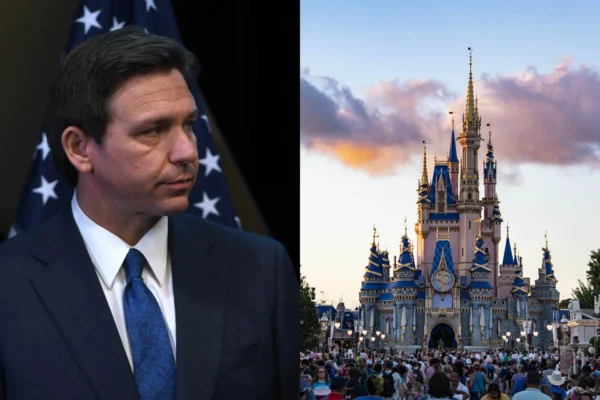 Florida Governor Ron DeSantis has made some highly controversial statements and laws in his time in office, but now he's aiming for Disney. The feud has been ongoing, and neither will take a step back, their morals almost too contrasting to reach a decisive truce. It all began when former Walt Disney CEO, Bob Chapek criticized HB 1557, commonly referred to as the 'Don't Say Gay' Law which spread anti-LGBTQ rhetoric by prohibiting discussions about sexual orientation or gender identity in the Florida educational system. This support for the LGBTQ community set off a series of moves working against the multimedia company since apparently basic human decency is condemnable.
Ron DeSantis is a candidate for the 2024 presidential election, and to win the favor of the public plays the role of Robin Hood, rather unsuccessfully though. In an attempt to take the Reedy Creek special tax district from Disney and lessen their tax breaks, backlash ensues. Disney threatens the Floridian government by pulling a $1 billion headquarters development from them, canceling white-collar worker migration from California to Florida. DeSantis doesn't take this slander lying down, however, and refutes it by dragging Disney's financial status through the mud. He shares in a statement, "Given the company's financial straits, falling market cap, and declining stock price, it is unsurprising that they would restructure their business operations and cancel unsuccessful ventures." What better way to cover up his own mistakes than to camouflage them under the 'poor' economic capabilities of Walt Disney?
Disney is suing the Florida government for punishing them for exercising their right to freedom of speech by criticizing the anti-LGBTQ legislation passed. Disney believes that Florida is trying to "weaponize government power" over the company, and so refuses to back down without a fight. The lawsuit is ongoing, and only time will tell the final results. The battle against Disney contains major political risks for Ron DeSantis and his 2024 presidential campaign. Florida's economy and tourism industry depends heavily on Disney World but with the tension brewing between the two, the government must tread lightly if they want to keep Disney a main attraction.