The Current State of The GOP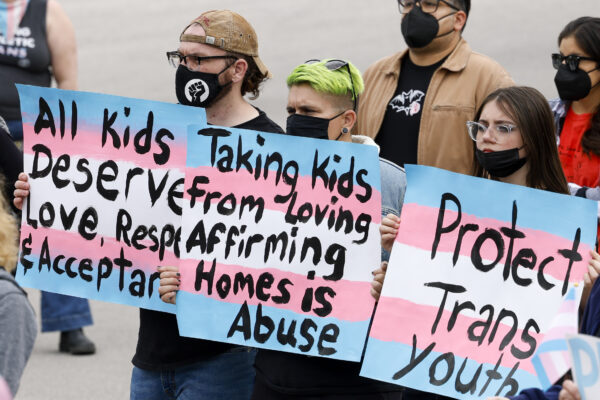 Day by day, it is becoming far more clear of the GOP's position on transgender people. This is not slant, this is not conjecture, and this is not a spurious accusation, so let me say it loud for the people in the back.
THE GOP HATES TRANS PEOPLE!
This war on trans people and drag queens, their fight against the woke agenda, and neo-marxism have taken policy priority for the GOP. Their outwardly grift-like stance on most progressive subjects clouds most upcoming and current politicians' work and objectives. And they will stop at nothing till they, as Michael Knowles stated at CPAC this year, "eradicate transgenderism from public life."
You might be curious as to how all this works. Let me break it down for you: Specific interest groups, which have raised millions of dollars in recent years, have provided templates and support for similarly worded bills in statehouses across the country that seek to ban minors from attending drag shows, prevent trans children from receiving gender-affirming care, and restrict their participation in high school sports.
In addition to dozens of bills passed this year alone, Florida is expected to pass three more anti-trans and anti-LGBTQ legislation. Bill SB 1438 is pending DeSantis' signature and has already seen approval from the Senate. This bill is specifically aimed at preventing kids from seeing drag shows. The House also is expected to pass a bill, SB 254, that would prevent doctors from providing treatments such as puberty blockers and hormone therapy to transgender minors. The third bill, HB 1521, would bar transgender men and women from using bathrooms that don't align with their sex assigned at birth. I am really excited to see what'll happen now that trans men will be forced to use the women's restroom. Protesters interrupted the House debate Tuesday and rallied outside the House chambers. Let their chants haunt the minds of these politicians.
According to Axios.com, Texas is leading the nation in anti-transgender legislation, with over 57 this past session. The Texas Senate on Tuesday voted to ban gender-affirming care for Texans under 18, and last week, two anti-trans rights bills passed the Senate. One would require college athletes to compete on a team that aligns with the sex designated at birth, regardless of gender identity. The other bill — sponsored by Sens. Mayes Middleton (R-Galveston), Brandon Creighton (R-Conroe), Charles Perry (R-Lubbock), and Bob Hall (R-Edgewood) — would require a person's sex at birth to be included on birth certificates and would restrain the option for minors to update their records to match their gender identity.
So many other states have followed Texas's and Florida's lead eroding the civil rights of many everywhere and contributing to the surge of stochastic terrorism.
If how Republicans and Conservatives reacted after Budlight decided to endorse Dylan Mulvaney wasn't telling enough of their insidious agenda, I don't know what will.