Tom Brady Retires, Again!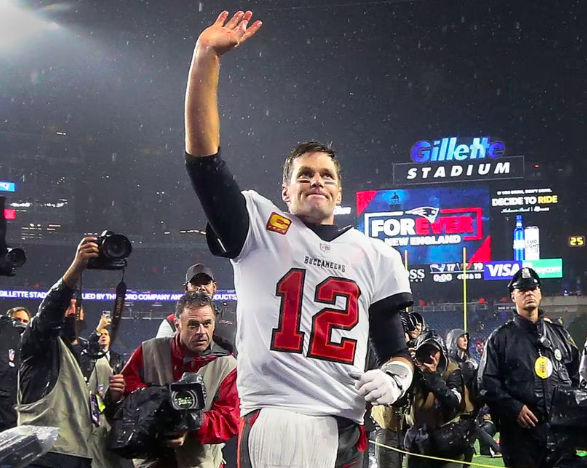 On February 1, 2023, at age 45, Tom Brady retired from football after 23 seasons. He retired last year on February 1, 2022 but unretired 40 days later. This time he stated, "I'm retiring for good."
Tom Brady, in the sixth round as the 199th pick of the 2000 NFL, was never considered the biggest, fastest, or strongest player but his mental acuity allowed him to succeed beyond any one's imagination. After an injury to then starting quarterback Drew Bledsoe, Brady got his first opportunity to show the world what he could do while under center. This turned out to be a monumental event as Brady never looked back after getting the opportunity to live out his dream of playing quarterback in the NFL. During his career in New England, he led the Patriots to six Super Bowl victories with the 6th one tying the Pittsburgh Steelers with the most Super Bowl victories by a franchise in NFL history.
In March 2020, Brady made the biggest decision of his life, moving away from New England and moving to Tampa Bay to play for the Buccaneers. During Brady's three seasons in Tampa, the Bucs made the playoffs each season and won their division twice. The highlight of his time in Tampa Bay was winning his seventh Super Bowl and Tampa Bay's second championship. His seven personal Super Bowl championships is more than any franchise in the Super Bowl era.
Throughout Brady's historic career, he won 3 MVPs, 2 Offensive Player of the Year Awards, and he was honored as a Pro Bowler a whopping 15 times. Going along with these awards, Brady holds many records: most career wins for a quarterback, most career passing attempts, most career passing yards, and most completions. Tom Brady was also selected to the NFL 2000s All-Decade Team, NFL 2010s All-Decade Team, and the NFL 100th Anniversary All-Time Team. All of these accomplishments are why he is considered the "GOAT".
Brady will undoubtedly be missed off the field and it is very unlikely that there is a quarterback that will surpass him as the "GOAT".