Brazil's Insurrection: A January 6th Repeat?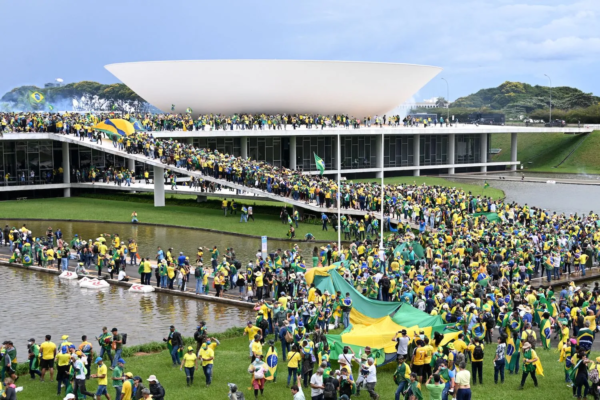 Recently, on Jan. 8, hundreds of supporters of Brazil's former president Jair Bolsonaro stormed the seats of power in Brasilia, looking to overturn election results. Sound familiar? It's been over two years since our country's Capitol was breached for the same reason.
So what prompted this in Brazil? As of October, Luiz Inácio Lula da Silva, known better as Lula, won the position of president in a runoff election. After Lula had won, Bolsonaro had made repeated claims that the elections were illegitimate and fraud was in the works. He had no objective evidence to back up these claims. He accused the voting machines of malfunctioning and called them "ludicrous." Some presume Trump's tactics might have influenced Bolsonaro in the 2020 election. After investigating, Brazil's Ministry of Defense found no proof of fraud in the election. Even after Bolsonaro, he refused to state that he had lost or explicitly conceded. He was also not present at the inauguration of Lula. Experts say that during the months Bolsonaro worked to establish conspiracy theories, ultimately, he was the one who encouraged this protest.
Bolsonaro's supporters continued to believe these theories and resisted Lula's victory from the beginning. Many loyal Bolsonaro supporters had been camped in the capital days before the protest. On Jan. 8, Bolsonaro supporters dressed in the colors of Brazil stormed the congressional building and other government buildings, breaching them. Videos show protestors overwhelming police barricades and protection. Protesters reached the Green Room. The floor of the Congress was flooded after someone had tried to light a fire, and expensive artwork and furniture were destroyed. Offices were vandalized, and gifts from international governments were also killed. The building was ransacked entirely by the end of 3 hours.
Bolsonaro immediately took to social media to denounce the protesters' actions. Security was immediately tightened, and the government stated that they were working to identify all involved in the riot. As of now, at least 1,000 people have been arrested in Brasilia.