Trump's 2024 Rerun: What does this mean?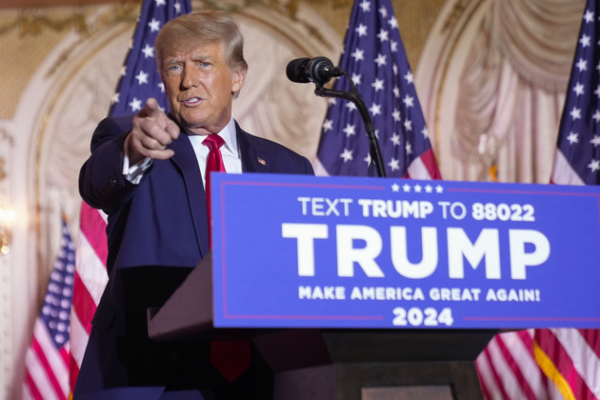 Former President Donald Trump has recently confirmed that he will run for president in the 2024 elections at his estate in Mar-a Largo, Florida. This announcement comes after a disappointing midterm election for the GOP. Trump had endorsed many Republicans this year, and many candidates were defeated in the races.
Throughout Trump's speech, he makes many claims and references his accomplishments(many exaggerated) during his four-year term. Trump frequently compares his policies to the Biden administration regarding climate change and economic policies. He suggests that the current economic climate results from Biden's legislation. He describes how his policies were more effective and continue to appeal to his supporters.
Trump's reputation has never been spotless, and he's gotten impeached twice, so why are his supporters so heavily numbered? One reason could be his extremely right-leaning views. Forty-seven percent of Republicans and Republican-leaning independents want Trump to be the nominee in 2024, according to a recent Washington Post-ABC News poll. These numerous supporters provide Trump with a gateway to a successful presidential run. His promise to "Make America Great Again" resonates with his supporters after Obama's presidency, which many perceive as a waste of a presidency.
Many people believe that if Trump were to take over, democracy would get threatened. Researchers think that one of the first measures Trump would take is installing people loyal to him in the Cabinet and appointing people who support him. This would help Trump to keep control and have influence over the government.
Another thing he could do is govern without the Senate's advice or consent. In the past, Trump has tended to ignore the Senate's suggestions and pass bills. These bills tend to cause chaos because they get viewed as controversial. He is also believed to use the military to increase his political power in the country. Racial and ethnic tensions may rise, and the partisanship between these political parties may increase heavily. Other consequences include political unrest within the country and America's decline as a global power.
Although the chances of Trump winning the presidency are slim, the possibility provides the country with a question for the good of the future.