*Arts* and Entertainment: Guy Billout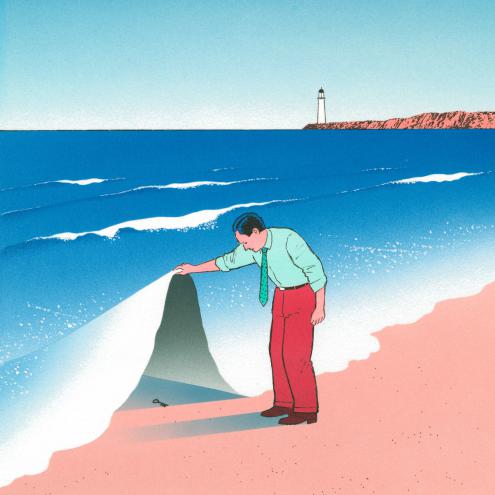 I want to introduce one of everybody's top two French surrealist artists, Guy Billout. He is known for his precise, pastel-colored works that include a lot of normal and a little of weird. His presentation and technique are extremely clean with very precise lines and pristine coloring usually having a very basic image with something a bit off. A man lifting the sea like a blanket, a Greco-Roman building with an unbalanced pillar being propped up by a book, blurred people looking into a body of water with a corrected reflection, and many more.
Billout started out as a small author and professional illustrator, with no experience and was completely new to the U.S. He sent a short story he had made about a young artist and his obsession with America to the design director of The New York Magazine at the time, Milton Glaser. Glaser loved it so much that he published the entire portfolio (1969). This opened up his career and he continued to get his first paid project for Redbook Magazine in 1969. This eventually led to his most popular, and arguably best works with the Atlantic (1982-2006). He was given complete editorial freedom for a bimonthly section in the magazine. his column became an integral part of the magazine's success for over 20 years. eventually coming back to The Atlantic in 2008 for four more years
He has been influenced mainly by the author of The Adventures of TinTin, Hergé, who popularized the ligne claire (clear line in French) style, with other smaller influences including French poster artist Raymond Savignac. Another comparable modern artist who I can't recommend enough is Simon Bailly. He's also a magazine artist from France, go figure.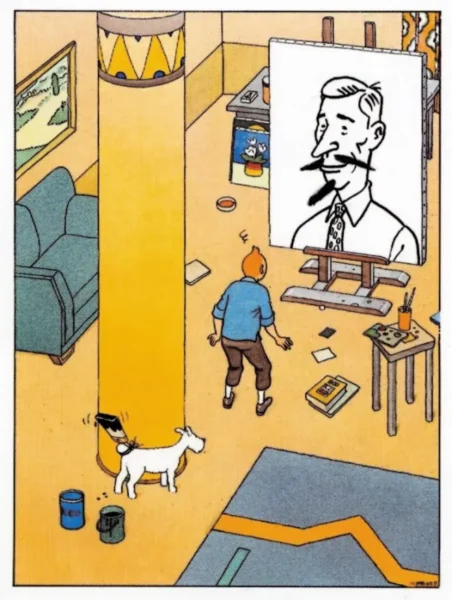 I personally just love Billout's artwork. I think it's refreshing that a lot of his pieces don't really have some underlying social commentary. Most of his works are deadpan cynical gags that are enjoyable to look at. They don't make you laugh out loud but have a feeling of satisfaction when you see what's going on. Of course, some of his art has meaning, but in general, he's just, in my opinion, the best at what he does, and what he does is great.