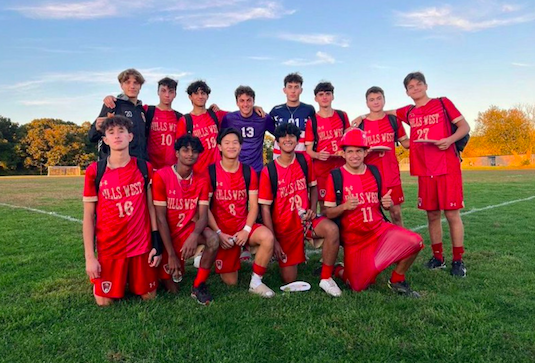 The Hills West Varsity soccer team clinched a playoff berth and a first-round bye this past week following a great team win on their annual senior day, October 14.
The Colts went up against a talented Deer Park team that needed a win to keep their playoff hopes alive. The Colts went up 1-0 as captain Zach Wernick [12] sprinted past his defender and crossed the ball to Luke Bradley [10], who banged it home, giving the Colts a 1-0 lead. This goal proved enough as the Colts would hang on for a 1-0 win.
Senior goalie Dylan Seltzer played great as he contributed to a one-save shutout. Senior captain Zach Wernick was very proud of his team's effort, and getting a win on his senior day was a great addition to the day. "Senior day was a great way to celebrate my last ever home league game and was made possible thanks to the great parents and coaches of Hills West," said Wernick.
This year's team had a significant influence from the senior class, as they have 16 seniors on their roster. The Colts had the privilege of securing a first-round playoff bye, allowing them to get some well-deserved rest going into a hopefully long playoff run.
"This first-round bye allows us to recover from the regular season, and we get a free win for the first round," said Wernick. The Colts see themselves as a team that can make a push for a deep playoff run.