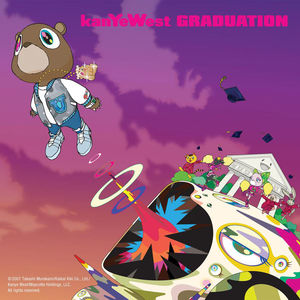 Released on September 11th, 2007, Graduation perfectly embraces the earlier sounds heard on Kanye West's albums College Dropout and Late Registration, while also introducing his audience to what was to come in his future music. The 22-time Grammy-winning artist has earned a massive following, Drawing in over a billion streams on 10 different albums. Kanye has also been argued to be the greatest rapper of all time and even the greatest artist of all time by his fans.
From a production standpoint, I believe Graduation displays West at his best, with wonderful samples, laid over hard-hitting drums, and accompanied by Kanye's signature flow. While this formula seems to be used by West on his first few records, Graduation remains fresh throughout each track with each song holding its own unique sound. There were five singles released off of Graduation, "Can't Tell Me Nothing", "Stronger", "Good Life", "Flashing Lights", and "Homecoming". Upon release, Graduation received many positive reviews and had over 1 million copies sold within the first week. 
I believe that Kanye West's art is highly arguable and controversial. There is an argument for each of his albums being his best work. Personally, I have always leaned towards Graduation. It's the perfect blend of his early works and later works and has notable hits throughout the album. It has some of my favorite artists such as Chris Martin from Coldplay, and also features a sample from Daft Punk's "Harder, Better, Faster, Stronger" off of what I believe to be the greatest electronic album, Discovery. The instrumentals on Graduation are very notable. With dancing synths that automatically flash back to the late 2000s, this album encapsulates production that is heavily nostalgic. 
My final thought on this album is that it is a perfect listening experience and I would definitely recommend it.