'The French Dispatch' Review: From France to Kansas, We Salute the Words on a Page
★★★
Manifestos, Frescos, and Stone-Black Cappuccinos
If you take a stroll down the extensive roads of Wes Anderson's work, one would commonly find a node of tasteful vigor — transmuted into relationships of tangible themes. This is where he thrives; where he bombards someone with gleaming hope of peaceful co-existence which is then thwarted by the ever-so prosaic morals of an antagonistic enigma. "The French Dispatch" is divided into three featurettes, each one inhabiting an enigmatic quality. Pictorially, the narratives remain jaded under a monochromatic blanket — shielding depth, conviction, and burgeoning tones from a more proper presentation. And for just a hint of more artistic brevity amongst the exterior of Mr. Anderson's world is the French town's name in which the documented affairs unfold — Ennui-sur-Blasé: the homogenous yanking of factual history which, in almost a turgid fashion, canonizes "boredom" and "self-effacing carelessness."
Ennui-sur-Blasé, France is the essential yet non-glaring counterpart to Liberty, Kansas and it appears as if every uplifting, indescribable aspect of the French town is soon shipped over the Atlantic Ocean as a much more quotidian version of itself. And ultimately, it continues to restructure the landscape of Liberty into a modernized, rich-in-story, sub-Parisian eldorado — a densely ranged difference between the initial, neglected perception of the Kansas town. I assume the esoteric nature of the Great Plains is another pedantic sprinkle of texture to an already well-sifted "love letter to journalism."
The first elongated chronicle is centered around an oxymoronic sequence of events as Moses Rosenthaler (portrayed by Benicio Del Toro), a pre-contemporary artist is confined to the artfulness of a jail cell, the nude body of his muse — Simone (portrayed by Léa Seydoux) — of which is a prison guard, and a palette of muddled, impenetrable colors. From the incidental notion of art being contrived within a place of detention, this is the most alluring of all three featurettes.
Entitled "The Concrete Masterpiece" — the story can be perceived as a fascinating concept piece on a visionary's inventiveness being founded through bombastic tableaus. Each work Mr. Rosenthaler displays for art dealer Julian Cadazio (portrayed by Adrien Brody), is abstract in how he uses color formulas. And since scrutiny alters to a blinding light for Mr. Rosenthaler's art, there are essences of conflict across the two men as they remain at each other's throats.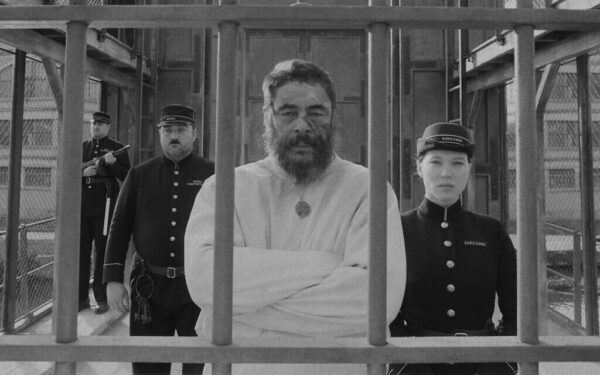 The elegance of Wes Anderson's world is quickly halted as the second story is full of impractical vanity. Featuring Timothée Chalamet as chess wiz Zeffirelli and Frances McDormand as news reporter Lucinda Krementz, "Revisions to a Manifesto" serves a purpose that is far more minimal than almost any other fragment of a project from Mr. Anderson. The narrative instills its lack of purpose early on as the revolution on the "chessboard" attempts to function as a eulogy for premature disdain. And just like that, the stake of any character plummets as Zeffirelli begins spewing manifesto-contrived jargon at café chessboard showdowns as he riddles through the pawns of his surrendering inferiors — all of which are looking to work alongside him in his rebelling endeavors. Every conflict hatched by the disposition of the revolution feels more monotonous than the last; there's a glaring lack of hints of an appetite to enthrall from Wes Anderson.
Subconcepts of neglect and jealousy are what create the tension within "Revisions to a Manifesto." There are banal twists that arise, but it's hard not to feel cheated out of what could have been a triumphant retelling of a wartime, romantic-drama.
The final featurette is "The Private Dining Room of the Police Commissioner" and it's much more comparable to the insatiable thirst for artistry as the first. Jeffery Wright jumps into the shoes of Roebuck Wright — a reporter who sought bail from incarceration in a character structure similar to that of James Baldwin. The man's homosexuality acts as Mr. Wright's downfall when he is asked to join the police force for dinner. The concurrent tensions between the conspiring police create a meaningful theme for a story such as this. And the colligated fears which paint the baffling image of the demonized police force are central to capturing the tone so effectively. Wes Anderson's cohesion does taper off at times as he tends to get carried away by his love for the minimalist's gaze — and loses the continual flair lying under the tutelage of a Parisian novel such as "Giovanni's Room."
Roebuck Wright seems to be a rebel in his own right, but more so for human nature in its times of apathy or disinterest for the subtle factors of daily life.
The overarching genre facets that gave "The French Dispatch" its edge of originality isn't always flawless. There's an outweighing amount of poor design outlooks that don't mend well with the rest of the narrative or respective fragment. But, when the film hits the mark with its outlandish take on collective — journalistic puzzles it's boldly intelligible and is a testament to Wes Anderson's capacity to find the flowing beauty in a rather underdeveloped outlining.