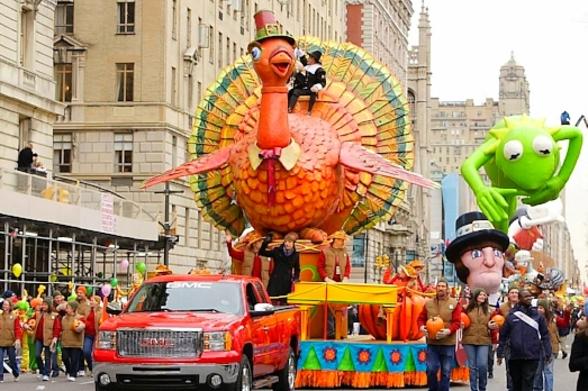 Thanksgiving mornings are often filled with both excitement and angst for the upcoming day. Families are busy preparing their meals, making sure they have the right table settings, and—of course—watching the Macy's Thanksgiving Day parade. As per tradition, Macy's will host this year's three-hour parade on Thursday.
Now, this isn't a new event. The parade is a long-held tradition—we will be having our 95th celebrated parade on November 25th! With this in mind, you may be wondering when this celebration of floats began. Macy's decided to throw a parade in New York in the 1920s! Believe it or not, they actually created the parade for the next upcoming holiday: Christmas. The parade itself, however, did not originate from Macy's. It all began from Philadelphia's Gimbel Brothers Department Store, who staged a Thanksgiving procession. In recent years, we have not been able to continue the parade due to COVID-19, but this year presents us with something new again. As stated by New York City Mayor Bill de Blasio, "We are thrilled to welcome back in its full form the Macy's Thanksgiving Day Parade, a world-renowned celebration that ushers in the magic of being in New York City during the holiday season." In my opinion, regardless if you are a devoted parade-watcher or just a casual couch observer, this parade affects all of us this year.
COVID-19 really created a rift among people, what with the isolation due to social distancing and the shift to online school. This parade demonstrates how people can finally rejoice in a well-celebrated social event with their families. The parade will have a live audience this year and will even have new types of floats—including a hybrid creation that is a part balloon, part float, and part vehicle. To get some outside insight, I asked a few people to see their thoughts on the parade and what's in store for this year's new floats. Junior Kamal Oberoi mentioned that "the Thanksgiving parade is a true classic dose of pure serotonin! It's always fun to watch and is beyond festive. Additionally, the new parade floats are stunning. You could tell that students really put their best efforts into crafting them. You could clearly tell they were made with love." In addition to this, someone else anonymously answered that "people look forward to [the parade] and it brings a nice aura to Thanksgiving where people really come together."
I think, regardless, we all should be grateful for what we have everyday. However, Thanksgiving especially is a holiday that should bring us together. What better way to ring in the holiday season than by sipping coffee and soaking in the magic of the parade?
Tune in to this year's Macy's Thanksgiving Day parade airing on NBC at 9AM!