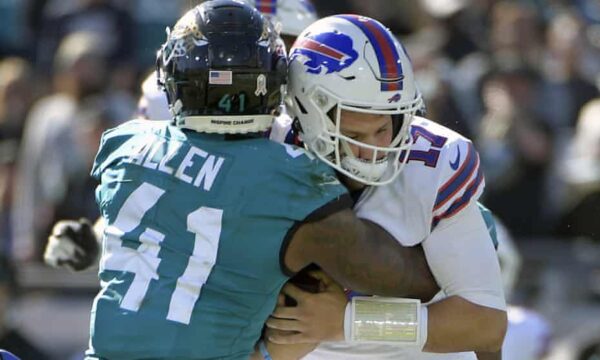 Josh Allen sacked Josh Allen.
The Jacksonville Jaguars were set to play the Buffalo Bills in Buffalo this past Sunday in what should have been a routine win for Buffalo, as Jacksonville has maintained a status of being one of the worst teams in the NFL, coming into this game with a 1-6 record, as well as a pitiful 1-15 record from the previous season.
The Bills were heavily favored going into the game, being 15-point favorites, which, compounded with quarterback Josh Allen's MVP caliber season so far, made it seem like the Bills Had a seemingly easy path to victory. However, this game went well for Josh Allen, but not the Bills quarterback.
Josh Allen had the game of his life, and it might not be the Josh Allen anyone expected. Josh Allen, a linebacker/ defensive end from Kentucky, who was drafted seventh by the Jaguars in 2019, showed up significantly versus Josh Allen, a quarterback out of Wyoming drafted seventh by Buffalo in 2018. The Jaguar's Allen was able to get a sack and an interception against Buffalo's Allen.
Josh Allen's performance was the first time in NFL history that a player has gotten a sack, interception, or fumble recovery on a player with the same name.
The Jaguars ended up stealing this game with a nine-to-six victory over the Bills, marking one of the biggest upsets in recent memory in the NFL. The Jaguars were also without star running back James Robinson, who has played at an elite level this year, making the win even more impressive.
The victory is a tremendous morale booster going forward for Coach Urban Meyer and the Jaguars, with many thanks going to Josh Allen for his extraordinary heroics against Josh Allen.