Hills West Legend Alex Aurrichio Honored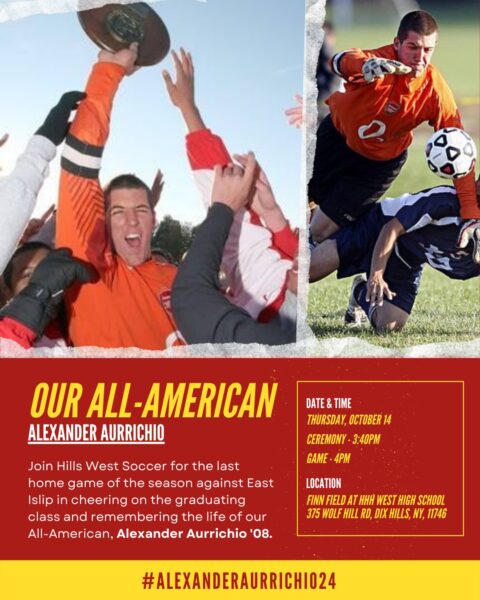 ON October 14th, coach Doug Gannon announced the retirement of former star goalkeeper Alex Aurrichio's number, #24.
Alex was a former Hills West student who was extraordinary in every way possible. He was a three-sport athlete, who excelled in soccer, basketball, and baseball, and would play both soccer and baseball at Columbia after graduating from Hills West in 2008. He impacted everyone he met in his school and community, not just because of his imposing 6'6" height, but because of his personality, sense of humor, and support of those around him. Alex was the type of person you wanted to be around no matter who you were.
After graduating from Columbia, Aurrichio decided to pursue a lifelong dream and move to Australia to pursue a career in Australian rules football. He was affectionately known as "Rooch," and many of his teammates embraced him as a supportive and hard-working player. Former teammate and co-captain Andrew Boston stated how when Aurrichio first arrived at the club; he immediately established himself as an unforgettable teammate, "When he first came to the club, you could see he was a big man with a strong voice, but everyone gravitated to him. He is a bloke everyone wanted to be around. His training standards were elite. He was the best trainer, and everyone strived to match how professional he was. He was one of the best clubmen at the Southport Sharks. He got around every single player, and everyone came to him for advice."
Even though Aurrichio played for many teams during his career in Australian Rules Football, he always made an incredible impact on every team he played for and cemented himself as a dependable player and a person you could always count on. Australia quickly became a significant part of Alex's life. He would frequently show his family the beauty and awe of Australia's incredible coastlines, and he even went scuba diving in the Great Barrier Reef.
To help give back to his community, Aurrichio came back to Half Hollow Hills during the offseason to be a special education paraprofessional and to help foster the next generation of Hills West soccer greatness as the seventh-grade soccer coach, where I was privileged to witness his energy and passion for the game.
Unfortunately, Alex passed away in a tragic bike accident during a bike workout in Australia's Northern Territory in June of 2020.
After he passed away, many of his former teammates, coaches, and peers praised him and wished his family well. Former basketball teammate and current Philadelphia 76ers star Tobias Harris stated that Aurrichio was "One of the greatest human beings I've come across… I've lost a friend that I will forever miss." Alex and Tobias' former coach, Hills West teacher Bill Mitaratonna, called him "the greatest competitor I've coached… It didn't matter if it were basketball, ping-pong; he just wanted to compete and win."
To honor Aurrichio, and commemorate him for his years of dedication to the Half Hollow Hills community, Hills West Soccer coach Doug Gannon decided to retire his number before the Colts' senior night game. Coach Gannon initially decided to retire Alex's number soon after passing, but COVID restrictions later prevented soccer from playing during the fall season. Although all fall sports could play later in the spring, it was a significantly condensed season without fans, so Gannon didn't want to have such a meaningful ceremony during a short and fanless season.
To commemorate Alex's hard work, talent, and passion for the game, Gannon wanted to make sure he was able to retire his number in front of the supportive Hills West crowd to ensure that everything Alex did for his team and community wouldn't be forgotten, "Alex was the best player to ever come through our program, he's a top-five athlete to come through this school, so he needed to be recognized in the right way. He was a player, a coach, a friend, and a colleague. I wanted everyone in the school always to remember him," shared coach Gannon.
According to Gannon, Alex's image, and passion for fame, played a big part for the boys, with Alex's legacy motivating them every day to be the best versions of themselves, "Coach Dugan and I remind the boys every day about his willingness to win and his drive to succeed."
Gannon also stated how Senior captain Matthew Nacht was particularly inspired by Alex's legacy, since he was a significant leader for the team, just like Alex was, who understands the history of the Hills West soccer program, and why remembering the accomplishments of players like Alex is so important. Matt adopted a lot of facets of Alex's game, such as his tenacity, leadership, and perseverance.

The ceremony itself was incredibly moving. It took place on the Colts' senior day and was attended by many students, parents, and members of the very tight-knit Aurrichio family. Gannon's emotional speech remembered all of Alex's incredible accomplishments not only on the field as a goalkeeper for the Colts, but for his athletic ability in his other sports, as well as his service to the Half Hollow Hills community during his time as a paraprofessional, and a middle school soccer coach.
Gannon also mentioned Alex's vigorous passion for Australian rules football and his ability to travel worldwide and make new friends and bonds just like he did back home on Long Island. Gannon stated how this was a testament to Alex's good personality.
Finally, Gannon announced the retirement of Alex's number, and the game started shortly after that, heavily inspiring the Hills West Squad never to forget Aurrichio's incredible legacy at Hills West.
Although Alex is no longer with us, his accomplishments, legacy, and personality will never be forgotten, and his presence as an incredible Hills West student will always be here with us.