Boys Soccer Back In Familiar Spot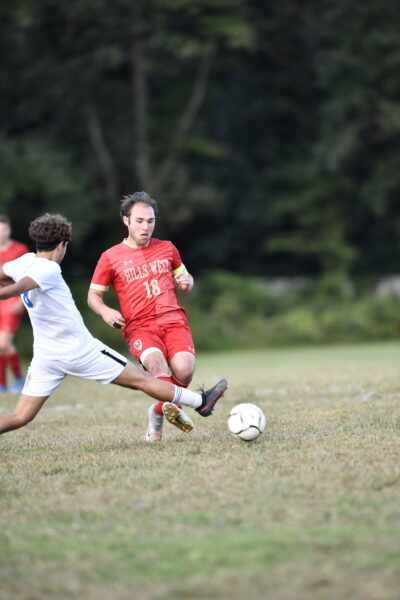 You'd be hard-pressed to find a better duo than the Hills West Boys Soccer team and success.
The Colts have consistently been one of Suffolk's best boys soccer teams, and this year is no different. The Colts currently sit at an imposing record of 12-3-1 and are second in Suffolk league 4, behind Comsewogue.
Although it seemed likely the Colts would have a successful season, not everyone felt this way, and many didn't think the Colts would perform as well as they have during this season.
According to Senior Center-Back Matthew Nacht, many were doubting the Colt's ability to excel this season. Still, Nacht never doubted his team, "A lot of people thought we weren't going to be good this season, but I thought we had a solid chance this season, and were going to be a league champion contender." Clearly, Nacht was correct, as the Colts silenced their doubters with their excellent record.
One of the main catalysts for the team's success is their very close bond. According to Nacht, the team has really become a tight-knit family, "Our team really became a family this season. We are always talking to each other 24/7."
Another factor in the team's success is coach Doug Gannon, who achieved his 250th win this year on the October 15th victory against Deer Park. Gannon has always been a strong leader for the Colts squad, motivating them through tough times and praising them when they excel.
Despite changing squads between years, the Colts boys soccer team has always been successful, and much of that success can be attributed to Gannon's excellent coaching.
This season was a memorable one for the Colts, featuring many tremendous victories and exhilarating goals and saves, but Nacht said one moment, in particular, was the most notable for the team: the team's away game at Hauppauge.
The Colts successfully shut out Happuague on their senior day by a score of 1-0, knocking them out of the playoffs. According to Nacht, the senior-day shutdown and Happugue's removal from playoff contention all compounded to make this game very memorable.
In addition to Nacht, the team is led by brick-wall goalkeeper Alex Wolk, whose strength, height, and athleticism have made him a force to be reckoned with in the Net.
The Colts also have an impressive young core, lead by freshman Ryan Levy, brother of former Hills West and now Indiana soccer standout Jordyn Levy. It looks like Ryan will carry on the family lineage, as he has already cemented himself as a vital part of the Hills West offense, despite being just a freshman.
With a successful season behind them, the Colts have a bright future ahead of them in this year's playoffs, and if the boys can keep their tight bond and incredible chemistry, they have a very good shot at achieving greatness this postseason.