Éric Rohmer is a very personally motivating director for me and his creatively choreographed plots are composed with some of the most delicate artistic touches.
Below features dual as well as cited analyses of two films from his most acclaimed series, the "Six Moral Tales": a chronology of six narratives pondering the psycho-analytic subconscious of masculinity and its confrontations with ulterior obstacles.
______________________________________________
"The Bakery Girl of Monceau"
Magic Amongst the Confectionery
The first of the evocative "Six Moral Tales" is a lovely, delectable expression about how alluring — from a narrative scope — simplistic artistry can truly become. Éric Rohmer's 1962 facade was so proficient at toning down the male hedonistic tendencies and capturing the delicacy that lies behind artistically derived minimalism. His expressions infringe upon masculine degradations as they attempt to counter the unmitigated misery of loneliness.
"The Bakery Girl of Monceau" is a lovely analysis of French's sequestered motifs which lie behind the window panes of every quaint, Parisian shop. It's a flavorful film about love, compassion and cloistered endearment.
Below is an excerpt from a fantastic piece about Mr. Rohmer's 1962 cinematic project by Dave Blakeslee:
"'The Bakery Girl of Monceau's' brevity, directness and simplicity are among its greatest charms, along with the simple enjoyment offered by its candid Parisian location shots. Those appealing aspects of the film were forced by necessity – after he was done with his day job, Rohmer shot the scenes in the late afternoon in the neighborhood immediately surrounding his office, and he had to keep it short since the project was self-funded and each additional minute of film added significant cost. As an apprentice work, Rohmer didn't think the film was polished enough to charge admission to a general audience. His opinion was shared by the French studios who rejected his pitch, leading him to partner with Schroeder create his own production company, Les Films du Losange. To an extent, I agree; "The Bakery Girl of Monceau" is too slight to stand on its own without the surrounding context of a longer series that at the time was just a conceit in its creators mind (and a short story collection, included in the box in an English translation.) But as an introduction to further variations on a theme, it's a wonderful example of how an effective, memorable story can be told under the restrictions of no production budget or recognized actors whatsoever. Fortunately, Rohmer would soon find the backing to bring the rest of his Moral Tales to a broader and more receptive audience."
The piece in its entirety can be viewed here.
______________________________________
"Suzanne's Career"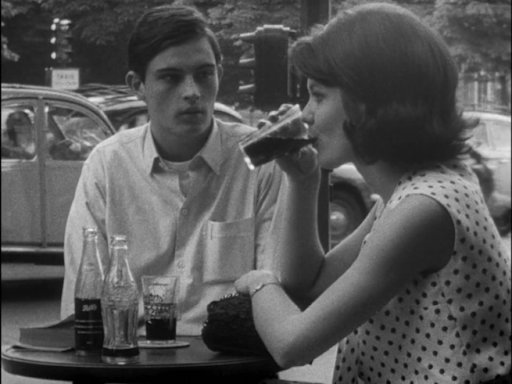 Patriarchal Subjects and Their Seemingly Cavalier Ambitions
"Suzanne's Career" digs even deeper into Mr. Rohmer's ambition about telling an untampered, naturalistic tale about human relations. And concurrently, it presents the rather edifying precipice of the director's interlocutory preeminence — and he prevails with perhaps some of the richest and potent subtexts any French New-Wave artist could conceivably clutch.
Below is a segment from a fantastic "Washington Square News" article by writer Quan Zhang. As a fellow writer, I feel Mr. Zhang's words capture the essence of Éric Rohmer's depiction of premodern naturalism to an absolute tee.
"[Éric] Rohmer depicts human interactions where seemingly nothing happens. His characters think too much, but barely act. For audiences who have little tolerance for ambiguity, Rohmer's characters can prove frustrating, as they're always internally monologuing about what they're going to do next only to never follow through. They're melodramatic, indecisive and vulnerable, offering viewers the chance to dawdle in thought while testing their emotional endurance until the credits roll."
"It could be argued that Rohmer finds morality in personal perspectives. He builds characters that engage the audience in their emotional wrestling, developing a dialectical view of the world that's equally informed by Rohmer's writing and the viewer's digestion of it."
The piece in its entirety can be viewed here.
______________________________________
The sort of spontaneous highlighting of art discussion is something we are planning on building upon within the paper as it's an unconventional way to bring forward the analysis of esoteric expressions. In addition, these pieces attempt to italicize a work of cinema or general creativity in which we feel our readers would see as quite enriching.