James Harden Traded to Brooklyn Nets in Shocking Blockbuster Trade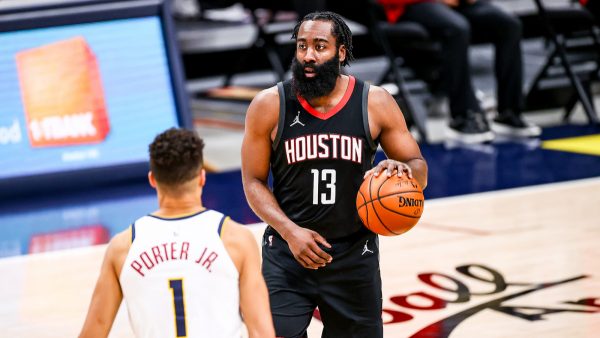 In a shocking turn of events on Wednesday, the Nets traded for Houston Rockets Superstar James Harden while keeping both KD and Kyrie Irving as a part of a  blockbuster four-team trade, forming another big three in the NBA.

The trade came after a large amount of drama involving both the Nets and The Rockets. James Harden had been making it clear that he was frustrated and wanted out of Houston. Harden arrived late at training camp after being seen partying maskless in both Atlanta and Las Vegas. As well as making various comments during interviews indicating he was frustrated with Houston and signaled that he wanted to leave. Harden's teammate Demarcus Cousins commented on the situation in a virtual media event before the trade was announced, "The disrespect started way before any interview. The approach to training camp, showing up the way he did, the antics off the court, the disrespect started way before. This isn't something that all of a sudden happened last night. This is the nasty part of the business. It is what it is."

The situation regarding Harden prompted various trade rumors, and the Nets emerged as a favorite to land him.

Back in Brooklyn, Nets star point guard Kyrie Irving was confusing fans as he was refusing to play for seemingly unknown "personal reasons," with some speculating he would sit out for the remainder of the season. This all came as Kyrie Irving was seen violating NBA Covid-19 protocols while attending a birthday party without wearing a face mask. There were no official statements from either Irving or the Nets organization, so the situation was all-around confusing.

With the situation regarding Kyrie's absence and the Nets being a favorite for a potential James Harden trade, many thought that an Irving-Harden trade might go down.

However, the Nets found a way to acquire James Harden while keeping both of their other superstars to form a big three. The trade was a four-team blockbuster trade that also involved the Cavaliers and the Bucks.

Although this trade looks like it makes the Nets unstoppable on paper, they gave up a significant amount of their bench players, as well as multiple first-round picks. The Nets bench squad was pretty solid, so Brooklyn will have to build their bench back up again. The Nets also lost some much-needed defensive depth at the big-man positions.

 The trade was as follows:

Nets receive: G James Harden from Rockets | 2024 second-round pick from Cavs
Nets trade: C Jarrett Allen & F Taurean Prince & rights to Aleksandar Vezenkov (57th overall pick in 2017) to Cavs | G Caris LeVert, F Rodions Kurucs, three first-round picks (2022, 2024 and 2026) & four first-round pick swaps (2021, 2023, 2025, 2027) to Rockets
Rockets receive: G Caris LeVert, F Rodions Kurucs & three first-round picks (2022, 2024 and 2026) and four first-round pick swaps (2021, 2023, 2025, 2027) from Nets | G Dante Exum & 2022 first-round pick (via Milwaukee) from Cavs
Rockets trade: G James Harden to Nets
Cavs receive: C Jarrett Allen, F Taurean Prince & rights to Aleksandar Vezenkov (57th overall pick in 2017) from Nets
Cavs trade: G Dante Exum & 2022 first-round pick (via Milwaukee) to Houston | 2024 second-round pick to Brooklyn
The trade universally shocked the NBA world, with many feeling skeptical that the players could effectively share the ball with one another. All three players are considered to be somewhat ball-dominant players, as all players have high usage rates. The average usage rate for a high-level NBA player is in the mid to late '20s. KD's usage rate is 30.2%, Irving's is 29.3%, while Harden's is at an incredible 40.7%. This led to many thinking that the three would be unable to gel with one another, and that the stars may get in the way of each other instead of synthesizing with one another.

However, all three of these stars have played with other extremely high usage players during their careers. Kyrie won a championship with Lebron James, KD won two titles with Steph Curry, James Harden played with Russel Westbrook, and KD during his time on the Thunder. So all players have shown in their careers that they are capable of playing with other high usage superstars, so that criticism may not be as valid as many make it out to be

Another criticism of the trade was that the Nets sacrificed too much depth to obtain Harden.

The Nets traded away Caris Lavert, Rodions Kurocs, Jarret Allen, and Taurean Prince, players who were loved by many Nets fans, but more importantly, added serious depth to the Nets roster. Jarret Allen was a solid big man who was able to play solid defense. Lavert and Prince also provided solid bench support that will surely be missed.

The trade also hurt the Nets defense in the big-man position, as the other top title contender teams that the Nets may go toe-to-toe within the playoffs this postseason are successful due to talented big men. Anthony Davis on the Lakers and Giannis Antetokounmpo are both instrumental to their team's success. The Nets may be unable to beat those teams if they can not sufficiently guard talented big men such as Davis and Antetokounmpo, as they now lack depth at the 4 and 5 positions. This is also coming when Deandre Jordan isn't playing very well, so the lack of solid big-man defense may hurt the Nets against teams with top-tier power forwards and centers.

To see how some of Hills West's students felt about the trade, I asked some knowledgeable basketball fans to hear their takes regarding the situation.

Matthew Pastier(11), who is a writer for the Roundup and an avid nets fan, is excited about this New Nets team and is looking forward to watching them play. He also believes that the star players will be able to make sacrifices and share the ball.

"Very excited to see the new-look Nets. Kyrie, KD, and Harden want to win and are ready to make sacrifices with the ball to do so. I believe it will work and that it doesn't matter how much we gave up if we can win the title.

Another Nets fan, Gavin Schochet(11), also felt that the trade was an excellent opportunity for the Nets. However, he is a bit cautious, as he feels the trade may hurt the Nets in the future if they can't win a championship.

"I think it's a great opportunity for the team to win a title, however, if they can't win one, then this was a complete failure, and that team is in big trouble for the future.

To get a different perspective, I also interviewed a Knicks fan, Jonathan Appel(11), to see how a fan of another team saw the trade.

Appel said he thought the trade had potential but agreed with some of the criticism regarding the trade.

"I think there is potential, it's just going to be how they can defend players like AD and Giannis."

When I asked him if he was disappointed as a Knicks fan to see the Nets create this incredible big three, Appel said he wasn't disappointed as he felt that the trade did carry some significant downsides for the Nets, as well as stating he trusts Knicks head coach Tom Thibodeau and trusts the defensive ability of the Knick's young core.

"No reason for any Knick fan to be disappointed, the Nets had to mortgage their cap, whole future, and now have no flexibility in their cap space. The Knicks have plenty of young assets, Immanuel Quickley looks good, and Thibs has all the young guys playing defense.

Harden will suit up for the Nets tomorrow, January 16th, against the Orlando Magic at the Barclays Center. NBA fans will have to wait and see if this new big three can put the pieces together to win a title or if they will be a failure that the Nets will regret in a few seasons.

For more NBA coverage, make sure you stay tuned to the Roundup, as well as the weekly Colt's Corner Podcast.