David Taylor Defeats Jordan Burroughs in Bout of American World Champs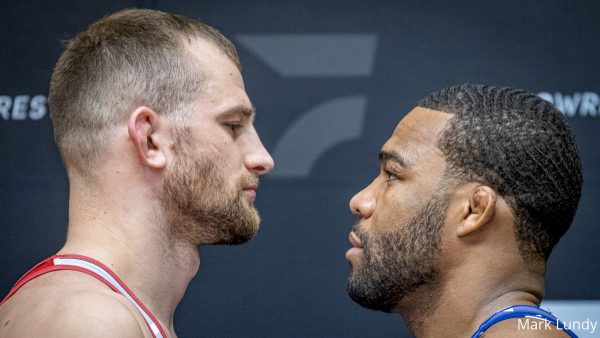 In an extremely close thriller match between two of America's best freestyle wrestlers on Wednesday, "Magic Man" David Taylor came out on top against "The King" Jordan Burroughs, in a match in the 86 KG weight class.

Due to the absence of high-level wrestling because of the Coronavirus pandemic, wrestling media group, Flowrestling has been creating various wrestling events featuring high-level wrestlers from both the NCAA and the international scene, including world champs Kyle Dake and Frank Chamizo. Burroughs, who usually wrestles in the 74 KG weight class, has also participated in some of these pandemic matches, bumping up to 86 KG to face Zahid Valencia, America's second-best wrestler at 86 KG, just behind Taylor. Burroughs won by a score of 8-5

FloWrestling hosted the event on Wednesday night in Lincoln, Nebraska, which is the home of Jordan Burroughs Alma Mater's home and one of America's most popular cities for hosting domestic wrestling events.

The event was notable due to the Burroughs vs. Taylor matchup. Both wrestlers are NCAA and World Champs, and are both in the top 4 of their respective international weight classes. Burroughs has come out on top in all of their previous exchanges at the 74 KG weight class. Since then, Taylor has moved up to the 86 KG weight class, where he has seen much more international success, becoming a world champion at this new weight class.

Both wrestlers are some of America's most talented athletes, so seeing them wrestle each other again for the first time since 2014 was a treat for wrestling fans.

The event featured a full card, with various matches leading up to the main event featuring both male and female wrestlers from different age groups, spanning from high school to college, all the way to elite level world champion wrestlers from many different weight classes. Some wrestlers agreed to weigh in at kilograms and some in pounds, so the weights for each match differ in the weigh-in unit. The matches were not held in weight order.

The event was initially scheduled for Saturday, January 9th, but unclear "COVID-19" protocols from the Flowrestling team caused the card to be split, with the rematch of Women's freestyle wrestlers Tamyra Mensah-Stock, and Adeline Gray rising to become the first night's main event. Both wrestlers are world champions and are ranked #1 in the 68 and 76 kg weight classes. Gray and Mensah-Stock wrestled each other in 2017, with Gray winning by a score of 8-0 Multiple wrestlers also featured on both cards, meaning we got to see some wrestlers on both nights

The results for night one were as follows. The matches were conducted using two three-minute-long periods.

155 LBS: Mitch Mckee Over Tristan Moran, Tech Fall
61 KG: Ronna Heaton Over Desiree Zavala, 10-8
215 LBS: Nate Jackson Over Wynn Michalak, Tech Fall
61 KG: Seth Gross over Zane Richard, 11-3
143 LBS: Ethan Lizak Over Matt McDonough, Tech Fall
65 KG: Joey Mckenna over Nashon Garret, Tech Fall
51 KG: Erin Golston Over Emily Shilston, 8-5
152 LBS: James Green Over Pat Lugo, 3-2
97 KG: J'Den Cox Over Hayden Zilmer, 6-2

Main Event, 76 KG: Tamyra Mensah-Stock Over Adeline Gray, 4-0

*Note: A tech fall is when a wrestler achieves a lead in a match of 10 points or more. The match is stopped when a wrestler's lead rises to 10 or more points over their opponent

After the undercard filled with solid matches, we got to see what we were waiting for, the night's main event. Adeline Gray vs Tamyra Mensah-Stock

In a shocking turn of events, Tamyra Mensah-Stock defeated fellow world champ, Adeline Gray. These women are world champions for the U.S and are ranked #1 in their respective weight classes, with Adeline wrestling at 76 KG and Tamyra wrestling at 68 KG, which is 168, and 150 pounds, respectively.

Both wrestlers have equally impressive resumes, with both wrestlers never losing to a domestic opponent in the past three years. Grays International record is 44-1, and Mensah-Stock's is 60-5. Adeline Gray is a five-time world champ, while Mensah-Stock is a one-time world champ.

Despite both wrestlers being extraordinarily accomplished and talented, Gray was the clear favorite here. Gray has more world championships than Mensah-Stock, and on top of that, she had a significant weight advantage. Gray was wrestling 18 pounds heavier than Mensah-Stock. At the elite level, that can make a huge difference. 

Despite this, Tamyra overcame all odds and defeated Gray, using her impressive scoring ability to edge Gray.

Mensah-Stock went for a quick leg attack to start the match, but Gray defended it nicely, with neither wrestler scoring any points. Mensah-Stock was then able to score a takedown on Gray using a single-leg shot. Mensah-Stock was also able to perform a leg lace in the top position to give her a 4-0 lead. Mensah-Stock could not do anything else on top, so the wrestlers moved back into the neutral position. Gray attempted to make some more shots but was unable to score.

Adeline tried to push the pace for the rest of the second period, but Mensah-Stock kept holding her back, preventing Gray from scoring. Mensah-Stock stayed at a good pace, circling and defending until the clock hit zero to secure the victory.

Mensah Stocks's victory was a surprising turn of events, as she was facing a much better opponent on paper, who was almost 20 pounds heavier than she was, who also beat her handily in their previous exchange. Tamyra proved that hard work and dedication could overcome tremendous odds, and I can't wait to see what both of these wrestlers have in store for the upcoming Olympics.

Moving on to one of the most hyped-up matches for the past few months, let's take a look at Wednesday's card featuring World Champion freestyle wrestlers Jordan Burroughs and David Taylor.
The night followed a similar structure to the first night, with various male and female wrestlers from different weight classes and age groups, with no set order based on weight for the matches.

The results for Wednesday's undercard were as follows:

116 LBS: Anthony Knox Over Ben Davino, 11-6

117 LBS: Sage Mortimer over Audrey Jiminez, 8-5

145 LBS: Cory Chittum over Jordan Williams, Tech fall

65 KG: Joey Mckenna over Seth Gross, Tech fall

215 LBS: J'Den Cox over Nate Jackson, 6-1

The undercard was filled with solid matches, but let's move on to one of the most hyped-up matches in recent memory, this night's main event.

Both wrestlers were confident going into this one, with both making remarks stating they felt that they would come out on top.

"He knows he can't exchange with me.", Taylor said in an interview a week out from the match.

"He's flawless… I just think I'm better", Burroughs said in a complementary interview the same day as Taylor's.

Just like the first main event, both wrestlers have very impressive resumes.

Burroughs is a two-time NCAA champion, winning the Hodge Trophy(wrestling's equivalent to the Heisman Trophy) during his Senior Year, after an impressive undefeated season. Burroughs is a world and Olympic champion on the international stage, winning Olympic Gold in 2012 and four world championships. Burroughs is one of America's most respected and decorated wrestlers in its history, using his incredible double-leg takedown to bring opponents down effortlessly.

Taylor has plenty of accomplishments to his name as well. Taylor is also a two-time NCAA Champion, as well as a two-time Hodge Trophy winner. Taylor achieved international success when he moved up and away from Jordan Burroughs, winning the World Championship at 86 KG.

The last time they wrestled was at the 2014 world team trials. America's best wrestlers go every year for a large tournament to determine who will represent America on the international wrestling stage. They met in the 74 KG weight class finals, where Jordan Burroughs came out on top in a best of three-match series by beating Taylor in 2 matches with scores of 6-2 and 6-5.

Since then, both wrestlers have achieved international success, winning world titles, but at different weight classes.

The betting odds from Flowrestling were very close, with Flo slightly favoring Taylor, due to his slight weight advantage, although most experts agreed that the match would be very close.

At the weigh-in for the event, Taylor was very close to the 86 KG weight limit, weighing in at 85.7 KG. Burroughs weighed in slightly over his usual 74 KG, coming in at 82.3 KG. He was bumping up just for this match, and he will continue to wrestle at 74 KG for international events. Taylor still had a slight 7.5-pound weight advantage over Jordan, but not as much as anticipated, as Burroughs has not started his weight cut down to 74 KG yet, so he was heavier than expected.

So the stage was set, two of America's most decorated athletes took the mat, and fans everywhere were excited.

David Taylor walked out to his signature walk-out song "Taylor Gang" by Wiz Khalifa, which always amuses me whenever he uses it.

Burroughs also walked out wearing the singlet that he won the 2012 Olympics wearing, which sent a strong message to both Taylor and fans of wrestling all over the country.

The match started with offense from Taylor. Taylor attempted a single leg takedown, but Burroughs defended the attack, which resulted in neither wrestler scoring.

After the initial scramble, Burroughs was hit with a passivity warning, meaning that the refs felt that he wasn't doing enough to initiate a meaningful offense. If he received another warning, he would be put on the shot clock, which meant that if Burroughs couldn't score within the next thirty seconds, Taylor would be awarded a point. 
With 1:07 remaining in the first period, Burroughs was put on the shot clock. Burroughs was unable to score and Taylor was awarded a point, which gave Taylor a 1-0 lead.

With five seconds left to go in the first period, Taylor was given a passivity warning, but it would be futile as the period was ending soon. If there was more time, it looked like Taylor would have been put on the clock, but luckily for Taylor, he was saved by the bell.

At the start of the second, it looked like Taylor had a slight edge, as he was the only one who had initiated any offense, and was in the lead. Taylor has also prevented Burroughs from firing off his trusty double leg, so Jordan was having trouble gaining any offensive momentum.

When the whistle blew to start the second, both wrestlers were stuck in collar ties and neither made many offensive attempts.

Eventually, Taylor fires off another single leg shot, and almost took Jordan down, but Burroughs fights and makes an effort to go out of bounds, preventing Taylor from getting a two point takedown, forcing Taylor to settle for a one point push-out. It was clear that if Taylor had any more room, he would've scored a takedown, but Burroughs crafty edge wrestling prevented this. Taylor's lead was now at 2-0

Shortly after, Burroughs attempted to lower his level to set up offense, but lost his grip and slipped and appeared to hurt his inner thigh, Taylor was able to take advantage of this by quickly going behind him and scoring a two point takedown, bringing Taylor's lead to 4-0.As the Ref moves the two wrestlers back to neutral, Burroughs grabbed his knee and looked to be suffering some pain, but he shook it off and got back up. 

At this point in the match, Taylor was up 4-0 with 90 seconds left. However, Burroughs is known for his incredible sprints and comebacks when being down without much time left in matches. He's pulled this off against Isaih Martinez in the 2019 Final X Tournament, as well as against Taylor at the 2014 U.S. Open.

Despite my knowledge of Jordan Burroughs' incredible comeback ability, I was unsure if he could overcome a deficit like this against an opponent of this caliber, but Burroughs has shocked me plenty of times before, so I didn't know what was in the store in the next minute and a half.

Burroughs kept pushing the pace with Taylor, scoring a push-out point on him to score his first point of the match. Burroughs then attempted his first use of his signature double leg, attempting to get a takedown, but he could only get a push-out, cutting Taylor's lead down to two.

Burroughs was clearly pushing Taylor to his limit, scoring another push out point, cutting Taylor's lead to just one.

Burroughs then scored another push out point, and the match was tied. To the average viewer, they may expect the match to go into overtime, but Taylor was actually in the lead, due to a rule of freestyle wrestling known as criteria.

When a match is tied in freestyle wrestling, the judging criteria for who wins is not determined by overtime, it is decided by criteria, which is how tied matches are decided. The most important component of criteria is which wrestler scored the most points with one move. Criteria was awarded to Taylor because he had scored twice via 2 point takedowns whereas Burroughs points were all from 1 point push-outs.

Burroughs knew he was losing via criteria and with 7 seconds left, tried to initiate offense, but Taylor was able to hold him off and get his hand raised.

David Taylor should be proud, he wrestled a great match and avenged multiple previous losses. I'm looking forward to watching both wrestlers in all of their upcoming matches.

Thank you to Flowrestling for sponsoring this awesome event, I'll be covering future wrestling events right here on the Roundup, so don't miss it!