"Thriller" 30 Years Later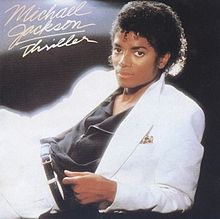 Michael Jackson's "Thriller" is certainly a force to be reckoned with. With the recent passing of its 30th anniversary, the Roundup decided to give attention to this landmark album which is widely regarded as the greatest pop records of all time.
This album was a cultural phenomenon that can still be looked at as a true representation of life in its time. There's no wonder the National Registries for both Recordings and Film have both kept "Thriller" in their libraries as a culturally, historically, and aesthetically significant work. Not only was it recognized by these national organizations, but it also took control over all the pop music charts at the time.  A year after its release, "Thriller" became the highest selling album of all time, a title it still holds to this day.
Many big names worked on this album with Jackson. The album features Eddie Van Halen, from the band Van Halen, on guitar in the track "Beat It," and Paul McCartney's (The Beatles) vocal work on "The Girl is Mine." In addition to these stars, the album features many of the Jackson family members, including Janet, Paul, and La Toya. With this all-star lineup, it is no surprise that the album went on to win 8 Grammy Awards including Album Of The Year.
When listening to the album, the Roundup enjoyed the carefully crafted lyrics and the music behind it. The album has a funk quality to it that is representative of the time period and the transition from funk to dance/pop that music was going through. "Thriller" is definitely an album to keep on your iPod in case you ever get into the mood for some good pop music!