Hills West Football Season Comes to an End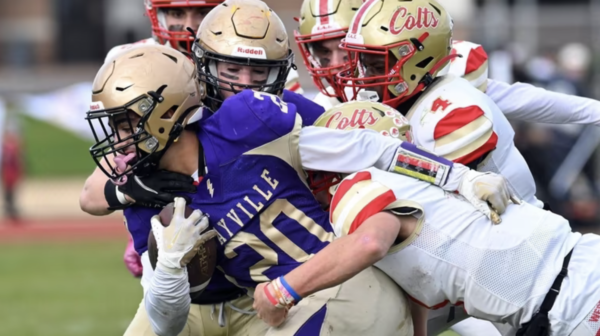 The Hills West Football team traveled to Sayville High School to take on the #1 seeded Golden Flashes, a program ranked #1 in Suffolk County and #11 in New York State. Despite this, Hills West was coming into the game confident following a 70-68 round 1 victory over Smithtown West.
The Colts were seeking revenge after the Golden Flashes spoiled our homecoming defeating Hills West, 34-7 in a rainy, windy game. Highlighting that game was the brilliance of Sayville RB Kyle Messina. Messina, a 1st team all state player as a sophomore, ran for 198 yards and 3 TDs.
As for the playoff game on Saturday, Hills West got off to a rough start as Messina rushed for 55 yards and a TD on just the first drive. He added a 2nd TD on the following drive as Sayville got off to a hot start leading 14-0 just 6 minutes into the game. Hills West would cut that deficit in half as Anthony Raio caught a 55 yard TD from Joe Filardi. Despite Sayville coming down to score for the 3rd straight time, Hills West stayed in the game as Joe Filardi would capitalize on a Mikey Redd acrobatic catch, setting Filardi up for a rushing TD. The game would eventually be 35-14 at half in favor of the Golden Flashes.
The Colts would need a strong second half performance to continue their season and advance to the Division III championship. The team got exactly what they wanted following the halftime break as on the very first play, Raio and Filardi would connect on another long touchdown, this time for 65 yards. Despite this fight, the physical nature of the Golden Flashes would prove to be too much for the Colts as they would eventually fall by a score of 42-28.
The Colts' season has come to an end. A season that was filled with thrilling games, endings, and moments in general, such as the Smithtown West playoff game or the Westhampton Beach week 8 matchup. Although the ultimate goal was not accomplished, congratulations to Coach Filardi and the rest of the team on a season that they all should be proud of. The future of Hills West Football is bright.