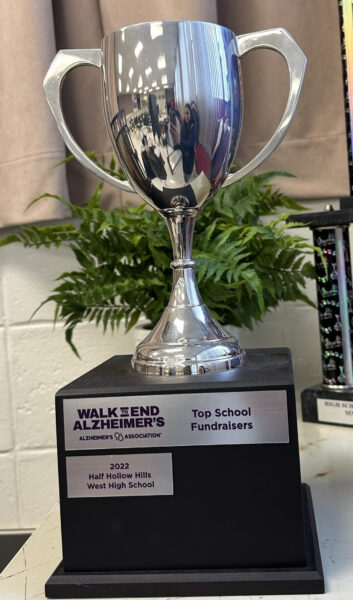 The Tri-M club has supported the Alzheimer's Association multiple times by participating in a walk. However, in the 2021-2022 school year, they hosted the Walk for Alzheimer's here at the school. This walk is one of the most memorable fundraisers for our district because they won a "Top School Fundraiser on Long Island" award.

In the 2021-2022 school year, Hills West had COVID restrictions, but Mrs. Romeo, the Tri-M club advisor, saw light through a pile of rocks. Due to COVID, they could not put all the kids on a bus and go somewhere to do the walk, so they did the walk right here, on the track. They had the Alzheimer's Association sponsor them, come to the school, and set up the walk with their supplies. Tri-M, Key Club, National Honors Society, and other students from the school went to the track to walk for an hour. Tri-M won this award for the walk because the Tri-M students were raising money selling t-shirts, and they raised $6,000. Mrs. Romeo was very proud of them and proud to give 100% of that money to the Alzheimer's Association.

Tri-M participated in "Safe Halloween" at the West this year, and they hope to organize another walk for Alzheimer's. The Alzheimer's Association has always stood out to Mrs. Romeo because her mom passed away from Alzheimer's a while back. However, they are always looking to support other groups as well.

Mrs. Romeo's advice for people thinking about donating/donating their time to charity is to do it. "They always don't care to do it or do it for a different reason, like community hours. But once they come out, they get more; they get inspired by going and listening to the stories of those who have lost."