Round 1 Thriller in Favor of The Colts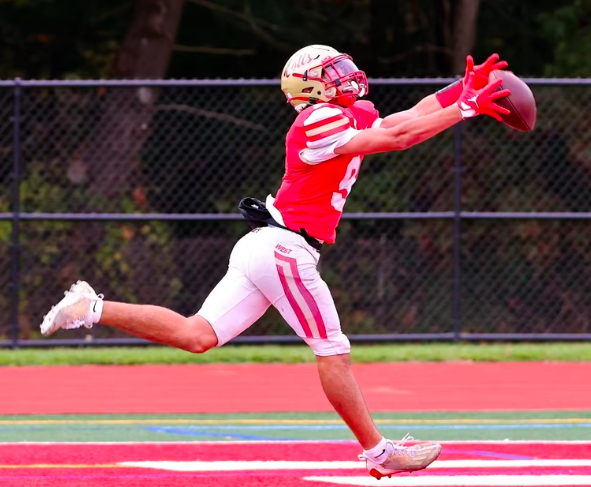 On Saturday, November 4 the Hills West Colts had their quarterfinal matchup against the Smithtown West Bulls. Just a short two weeks ago, the Colts lost in a last second thriller against those same Bulls.
Last week QB Joseph Filardi had 601 total yards, an overall great mark which many thought was his peak performance. Well, that was not the case as the ultra talented Filardi posted 656 yards against the Bulls. He completed 30 of 38 passes for 404 yards and seven touchdowns. On the ground, Joe ran the ball 17 times for 183 yards for 3 more touchdowns. An overall 10 touchdowns!
"Joe is making all the right decisions and our offense is clicking," wide receiver Anthony Raio said. Raio himself had an amazing game with 15 receptions for 266 yards and 4 touchdowns. Junior wide receiver Jesse Brooks had 11 receptions for 114 yards and 2 touchdowns, while Mason Reisch also had 2 receptions for 11 yards and a score.
This game was going back and forth, until Senior Mikey Redd got an interception to help seal the game. This game was a shootout with the final score being 70-68, a total of 138 points is the second highest total points in a game to when Sayville beat Lawrence 71-68 (Long Island Class III Championship Game)
Next week the Colts will travel to Sayville, the one seed on Saturday November 11 at 1pm. This is the same Sayville team that spoiled Hills West's Homecoming activities, as the Colts look for a revenge game in the semifinals.