Hills West Soccer Playoff Success
Colts celebrate 5-1 victory over Hampton Bays in the Suffolk County Class A Quarterfinals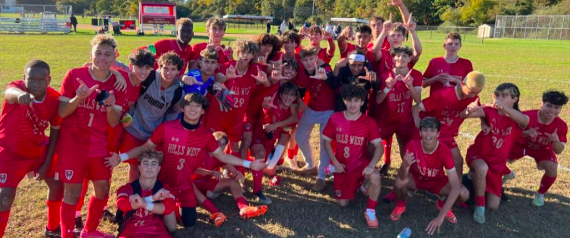 It was a great day for Hills West Soccer as both the boys and girls varsity soccer teams were victorious in their first round playoff matchups.
Hills West Boys soccer won their first playoff game on Monday against Hampton Bays. The final score of the opening round playoff game was 5-1. Goals came from Luke Bradley, Marco D'alessandro, Logan Seltzer, and two goals from Matthew Bender. This game was pure domination from the Colts as they took an early 2-0 lead and never looked back. This a very impressive win for Hills West as just a week ago, they had beaten Amityville to barely squeak into the playoffs after starting 1-5-1. It's undeniable that the Colts have started to wake up and are not a typical 8th seed. Coach Gannon has his players firing on all cyclinders as they impose a threat to every team that comes their way.
As for the girls varsity soccer team, the #5 seed, traveled to Eastport South Manor as they took on the #4 seeded Sharks. The teams met in the regular season as the Sharks traveled to Hills West and defeated the Colts 3-2, back on September 28th. The girls were in search of a revenge game this time around in a more meaningful playoff game. The Colts wanted to get off to a strong start, and that's exactly what they did as by halftime, it was 3-0 Colts. Goals were scored by Ghita Haouzi, Ciara Brown, and Gale Kurland. The girls were able to withstand a second half push from ESM and secure a 3-2 victory and a matchup with the #1 seed, West Islip, on Thursday October 28th.