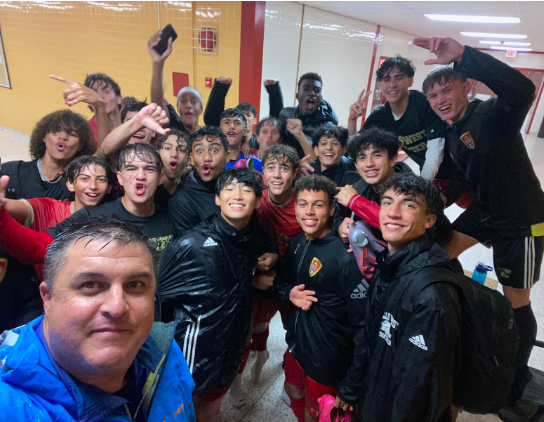 "WIN." The resounding mantra adopted by the 2023 High School West Boys Varsity Soccer Team. With an illustrious track record spanning two decades of relentless playoff pursuits, this rallying cry encapsulated the squad's overarching objective: emerging victorious. In the wake of a substantial loss of seasoned senior talent from the previous year, the team embarked on the new season with eight new starters, although there was a prevailing expectation that West would sustain its hegemony.
However, the initial phase of the season ushered in formidable challenges, resulting in a record of 4-6-1. While this numerical tally may appear incongruous with the essence of the WIN slogan, West clings to the opportunity for a playoff berth, contingent upon securing victories throughout the remaining matches. Renowned star player Robert Rosen maintains a positive outlook, asserting, "This season is far from done; Our record fails to reflect the true caliber and talent of West." Thus far, team captains Matteo Valente, Jaiden Anderson, and Ryan Levy have delivered commendable performances. Levy and Anderson have ascended into the upper echelons of Long Island's top 100 boys' soccer rankings, while Matteo has served as the squad's steadfast cornerstone beloved by fans for his role as the team's primary motivator.
When reflecting on the season, Matteo exclaimed, "We're yellers & screamers! So don't even dream of counting us out just yet. Even when we're facing adversity. We may be in a deep hole with our backs against the wall, but that's when our comeback and underdog story shines the brightest.'" As West approaches the zenith of the season, the race to clinch the coveted playoff spot promises to be a tension-laden affair. Irrespective of the outcome, the season has not been a waste, as it has bestowed countless cherished memories and unforgettable moments upon the team, underscoring the profound significance of the journey itself, even though West went from a dominant program to a phenomenal underdog story this season, West is far from done and will remain a top name in Long Island Boys soccer.
When asked to give a summary of the season coach Douglas Gannon expertly summarized the season so far as he summarized the performance so far." We struggled during the first half of the league season. Knowing that we dug ourselves a hole, we are currently trying to get out of it. We have been playing some passionate soccer of late, and hope to continue that and clinch a playoff berth for the 21st consecutive season"