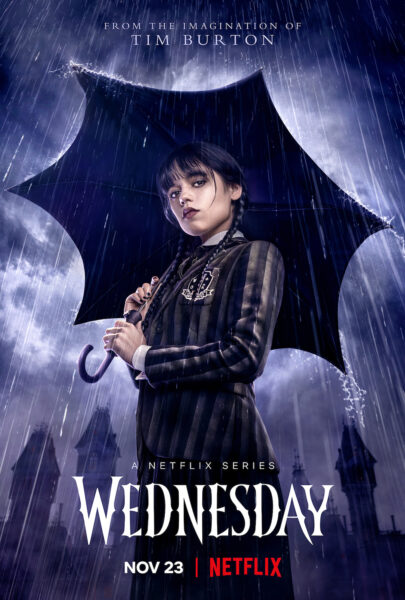 Netflix's new Wednesday series has exploded as one of the most decorated recent TV series. Captivating viewers of all ages, It is a show about a young girl discovering her hidden magical powers. It is based on the character Wednesday Addams by Charles Addams. Four of the eight episodes are directed by Tim Burton, who also serves as executive producer. The show premiered on November 16, 2022, and was released on Netflix on November 23, 2022.
Within a few weeks of premiering, it became the most-watched series in the English- language. It received many awards mainly, the Best TV series, AACTA International Awards, best actress award to Jenne Ortega, and many more from the cast and production members. Director Tim Burton sets the right visual tone – a mix of the comedic and macabre that resembles "Edward Scissorhands" – while teaming up with other directors Alfred Gough and Miles Millar, who know something about building a TV show around an extraordinary teen. Gough and Millar worked on Smallville, the 2011 TV series about adolescent Superman.
The show is about her offering tips for navigating her new school and introductions to some of the characters that will become central to the mysteries Wednesday will soon find herself investigating. These include: several killings in the local town of Jericho and surrounding woodland by what the police are finding it increasingly hard to deny must be a monster; possible attempts on Wednesday's own life; the suggestion that her father Gomez (Luis Guzmán) committed the murder himself in his youth; and whatever Wednesday's visions – seemingly fragments of the future – are trying to tell her. It is a show of teenage romance, mystery, and Wednesday's development as a person.
The first episode "Wednesday's Child is Full of Woe" shows Wednesday, an outcast at her regular school, finding her brother Pugsley tied up in a locker. After this, she tries to take revenge which results in her expulsion. Her parents moved her to a different school, "Nevermore Academy.". A name inspired by Edgar Allen Poes famous poem "The Raven". Here she is treated as a black sheep, still, even surrounded by monsters and people with powers similar to hers. She begins to learn about the history of the school, and her mother, who also attended Nevermore and shares her powers.
If you like romance and mystery, this TV series is for you. It is the epitome of a hybrid genre of Mystery, and some viewers hope it paves the way for more movies of a similar style.