Winter Concerts Are Raising Spirits This Holiday Season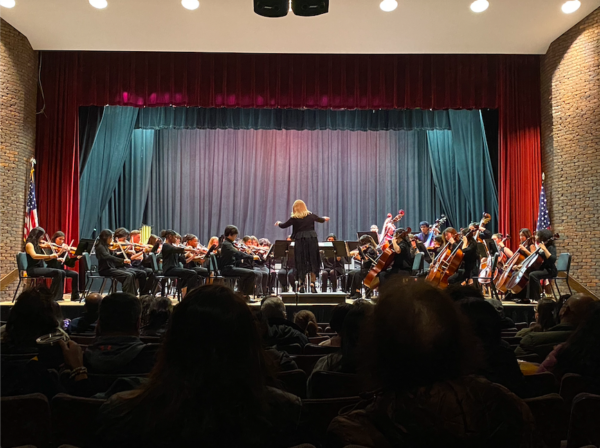 The time has come for Hills West's wonderfully talented musicians to take the stage and show off their hard work from the beginning half of the year. This year's winter concerts were not the ones to miss. Both the 9th/10th-grade music groups and the 11th/12th-grade music groups performed superbly these last two weeks.
The dedication and practice of the students in conjunction with the direction of Mrs. Martufi, Mrs. Romeo, and Mr. Foti were clearly evident in their performances.
The 11th and 12th-grade concert choir opened their show with a powerful Hebrew piece titled "Ose Shalom" The students were able to demonstrate their vocal ranges throughout this beautiful composition. They followed it up with a traditional Shona recreational piece named "Vamudara" which was a complex piece to master. The choir ended their segment with "Tres Cantos Nativos dos Indios Krao" in which students were challenged by having to impersonate a true "tribal style" and make animal background noises to accompany the main melody. This piece was also accompanied by a few percussionists namely, Matthew Mayor, Jesse Schindler, and DJ Hyatt.
The choir was followed up by the orchestra led by Mrs. Romeo. Right off the bat, first violinist Jacob Park stole the show with a powerful solo to open the piece "Folk Tune and Fiddler's Fury". The next work was particularly exciting as Mrs. Romeo shared that it would be one that is performed when the orchestra goes to Disney World towards the end of this school year. She mentioned that it was one of her favorite pieces and was sad when it couldn't be played a few years ago due to the Covid shutdown. The orchestra was able to flawlessly embody their rendition of the music from Beauty and the Beast, a very demanding task to take on. 20 incredible band members then joined the orchestra to create a full symphonic orchestra for their last piece, "Selections from Les Miserables".
The last music group of the night, the symphonic band, led by Mr. Foti, ended the concert on a positive note. Their first piece, "Minuteman" was a showstopping opener to their segment. Mr. Foti expressed his love for this piece as he personally knew its composer, Robert Pearson. Their next piece "Heartland Sketches" demonstrated the true skill of the advanced band. They closed their individual show with "Jerome Robbins' Broadway", an effective end to a well-done performance. Finally, to end the 2022 Winter Concert, the concert choir joined the symphonic band to perform "A Christmas Celebration". This combination of music groups, which hadn't been done in over 15 years, displayed the musical inclination of the students at High School West and concluded the night with an uplifting spirit, inviting the audience to have a happy holiday season.