Giving Back This Holiday Season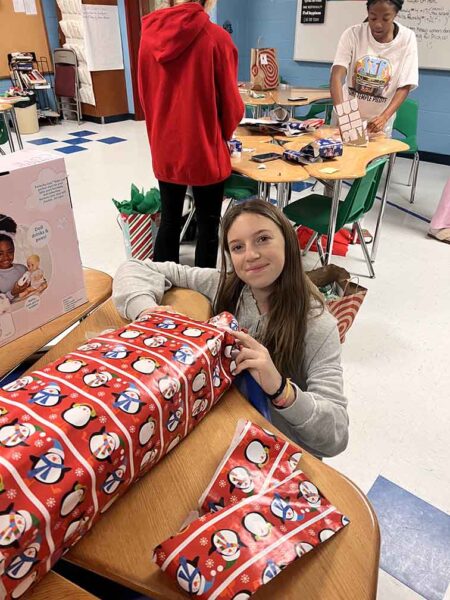 During the holiday season, it is easy to get lost in materialistic thoughts and lose the true meaning of the holidays. But it's this time of the year that it's most important to take a step back and give back to your community and those less fortunate. HHH High School West emphasizes giving back during the holidays through clubs and fundraisers. Clubs such as Key club have various charities running at once, ensuring that there is something for you to donate to during this season.
The average amount consumers expect to spend on winter holidays in 2022 is $832, which for some families who aren't financially stable due to various reasons, isn't doable in a season where costs like winter clothing and heating systems take priority.
Organizations such as Operation Christmas child, toys for tots, and adopt a child are offered through many organizations and companies such as the USPS. The USPS has a charity called Be An Elf, where one can receive a child letter to Santa and fulfill what they ask for while pretending to be Santa. This is a fun way to get into the holiday spirit and helps a family in need.
Similar to this, Adopt a Child for the Holidays is a gift-giving program. Children are registered through various agencies and wish lists are obtained from those organizations, allowing people to adopt these kids and purchase items and gifts from their wishlists. 
Advisor K. Madden loves advising key club because she feels it is one of the best ways to get involved with your community and help many amazing people along the way. This season's Key club event is the annual target shopping trip to Target, where students shop for and with less fortunate kids buying them winter necessities. 
Junior Jessie Per thinks giving back is extremely important because "It's seasons like this where you have to take a step back and realize your position and how fortunate you are to be in it. That at some point, giving back should almost be like second nature. There are always so many organizations during this time of year that you don't even have to go out of your way to do something charitable."
Every year Jessie and her family go through their winter clothing and donate all that is old. Something as simple as going through your closet makes such a significant impact on someone who needs it.