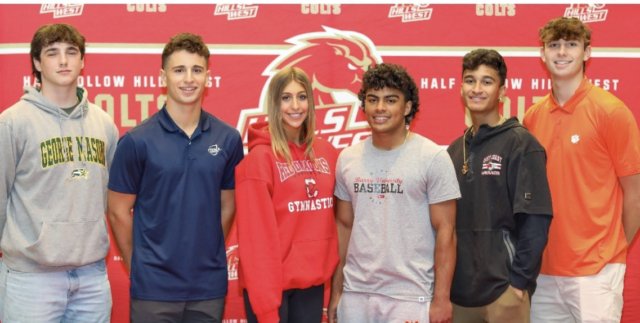 Hills West celebrated its Fall Athletic Signing Day for their seniors committed to play sports at the collegiate level.
The Colts had 6 athletes that were signing on Wednesday, 11/9. Along with coaches for their respective teams, the athletes were joined by their parents as they celebrated this special day as they officially signed to take their talents to the next level.
Headlining this special day for these athletes was the 5 players from the Varsity Baseball Team. Congratulations to OF Zachary Vasconcellos (Barry University), OF/INF Dillion Aery (Union), OF Luca Pipia (Ithaca), LHP/1B Justin LeGuernic (Clemson), and RHP/OF Ryan Muskopf (George Mason) who all have decided to pursue their love for the game of baseball. 
This day comes along with a lot of emotions for these athletes. "It feels like a big weight has been lifted off my shoulders", said Ryan Muskopf. Muskopf also went on to add that he is very excited to be committing with his teammates and people he has been playing with since a young age. "It felt almost cathartic to reach the same goal that we've worked for since we started playing".
Along with these baseball commitments, Taylor Goldstein committed to continue doing gymnastics at Suny Cortland.
There will be another signing day in the spring for the additional athletes that decide to commit to playing collegiate sports.