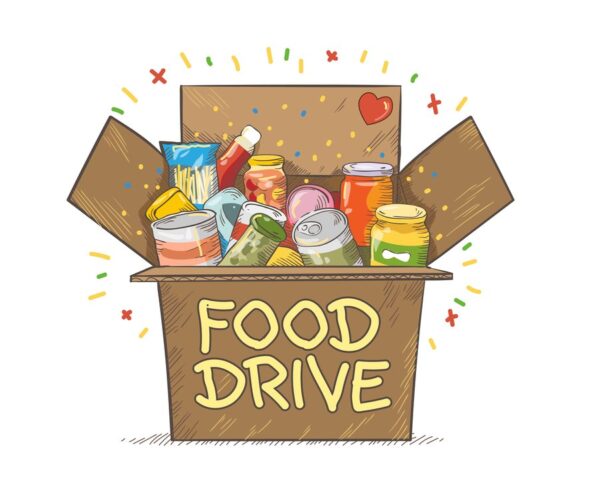 In the month of November, several food drives were hosted by various clubs at High School West, such as Key Club, Tri-M Honor Society, and National Honor Society. These anual food drives donate to Hills West families and the Smithtown Emergency Food Pantry. The Heads of both the Tri-M Honor Society (Mrs. Romeo) and the National Honor Society (Mrs. Fox) play an important role in the planning and execution of the food drives.
In the spirit of Thanksgiving, students at High School West brought in tons of food all throughout the month of November. Some brought food in for community service, which has been one of the most efficient motivators when it comes to donations, according to Mrs. Fox. Mrs. Fox has organized the National Honor Society food drive for four years. "Organizing a food drive is easy. Once the food is collected you set up a drop off time with the organization and you're done." Mrs. Romeo also claims that once you've been organizing something for a while, it becomes effortless. National Honor Society takes all contributions and donates them to the Smithtown Emergency Food Pantry. The Smithtown Emergency Food Pantry was established in 1984, and gladly accepts volunteers and donations all year round.
Food drives almost always take place around the holiday season, making it a wonderful time to donate to those of the less fortunate. "Food drives need to be done regularly to support the needs of the community", Mrs. Fox shares. Although many people in the community live above the poverty line, they still need the support of food pantries and shelters.
Tri-M Music Honor Society partnered with the French Club and the Robotics Club to create full Thanksgiving meals for students at Hills West who would not have the privilege of a full Thanksgiving Dinner. Members of these clubs each picked an item off a board to bring in, and together they built many baskets for some indigent families in the school. A member of Tri-M Music Honor Society says, "All together we filled six boxes worth of food. We had jello mix, nuts, coffee, canned foods, boxed desert mixes, stuffing and more." This was a different approach to the food drive than other clubs have taken. Students who participated in the making of the baskets received one hour of community service.
Although the food drives for Tri- M Music Honor Society and National Honor Society are completed, there are still many other opportunities for Hills West students coming up. Many drives will be coming up in the spirit of Christmas and the holidays. National Honor Society will be organizing a shoebox donation to a soup kitchen where different necessities and gifts will be wrapped up for those less fortunate. In addition, National Honor Society uses their dues to support families at Lend a Hand. Lend a Hand is a nonprofit organization dedicated to helping families in need on Long Island.
In this upcoming month, take a look at every drive happening at school and outside of school. If you can, please help donate your time and effort in order to help those who may need it.