Girls Soccer Surmounts Challenging Circumstances and Makes the Playoffs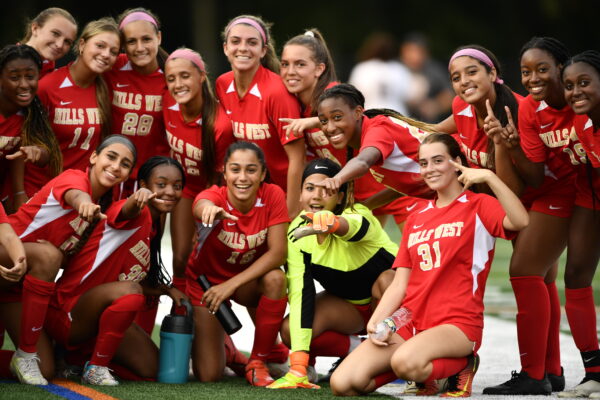 Despite facing new challenges, and what would seemingly be major handicaps, the Hills West Girls Soccer team has shown perseverance and grit throughout the 2021 season.
The team's biggest challenge this season was the merging of the Varsity and Junior Varsity teams.
In theory, merging two large teams with different players and different playing styles would only divide the team, interfere with team chemistry, and hurt the team's performance.
However, this wasn't the case for the Colts. Since their JV and Varsity teams have merged, they have looked incredibly dominant, with an impressive record of 10-3, and are currently fourth in Suffolk County Division two.
To better understand how this change has impacted the team, I spoke to Nia Derodel, a sophomore on the Colts. When asked about the team's chemistry, she stated, "The team chemistry has only gotten better as the season has gone along." She also added how the addition of JV players has added depth and moral support for the team, "With the merging of the JV team, we've definitely added some more depth and support to the sidelines."
Derodel felt the team had a solid season and mentioned she was proud of their various accomplishments, "Overall, our season has been pretty successful." Derodel also noted that after their game vs. East Islip, they are headed to the playoffs with a great attitude, expecting some wins to come their way.
Ciara Brown, also a sophomore, and the team's lead striker, gave her thoughts on the team's chemistry by talking about how the girls support one another while still keeping each other accountable, "It's a major component of our team chemistry. We acknowledge our mistakes while keeping it positive in game situations."
I asked Brown about important factors in their success, and she mentioned how the constant communication between her and her teammates is crucial to their performance, "Communication keeps us all on the same page and allows us to break through teams." The Girls' ability to communicate with one another and cohesively string together offensive and defensive strategies during games allows them to surpass teams without the same level of communication and chemistry.
Because of their close bond, hard work, and team spirit, Brown believes the Girls have a good shot at winning a title this postseason, "This is our year.", she said.
This season, the girls have more than shown their ability to persevere through challenges and adapt to new and uncomfortable situations. Combined with their excellent chemistry and communication, they will be a tough team to beat this postseason. They will undoubtedly be a contender to bring home some hardware in the upcoming weeks.