The Best Thanksgiving Dishes to Eat This Year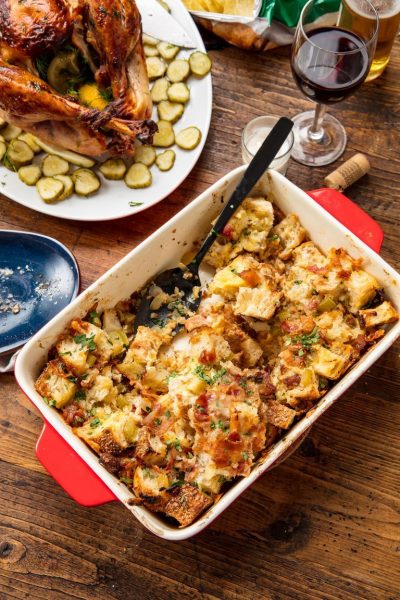 The enticing scents of turkey, spices, pies and more swirl through your home, as you hear the laughter and voices of friends and family mingling around you. Can you guess what time of the year it is? That's right, it's turkey day! The holiday is enjoyable for people of many different backgrounds and for many different reasons. Maybe it's the time of year, in late November, when it's chilly enough that spending your hours inside with family is the best way to pass time. Maybe it's the idea of family and friends getting together, and enjoying the time spent in each other's company. For others, it's simply the food. There's just so many tasty options to stuff your face with. Some favorites include stuffing, cranberry sauce, and potatoes.

Stuffing is usually what goes inside the turkey, but there's nothing wrong with just eating it by itself. Stuffing typically consists of bread, eggs, butter, and different spices/seasonings, among other ingredients. Southerners often use a cornbread stuffing that originated from a dish called kush, cooked by enslaved people brought from North and West Africa. In places like the Northwest, holiday stuffing can include wild rice used by Native Americans from the region. Stuffing has been a staple of the Thanksgiving Day meal, with written records as far back as 1836.

Up next is cranberry sauce. The most basic cranberry sauce consists of cranberries boiled in sugar water until the berries pop and the mixture thickens. It originated in New England, and was not popularized until the 19th century. By the early 20th century, farmers began harvesting cranberries in bogs instead of dry-harvesting, which led to cranberry sauce becoming a Thanksgiving essential.

Lastly, we have potatoes. While potatoes aren't unique to Thanksgiving, they are a necessity to the Thanksgiving meal. Potatoes are eaten mashed, or just steamed, and the same is done with sweet potatoes. Mashed potatoes became an American staple in the 1700s. As far back as 1747, Americans were mashing up potatoes with butter, milk, salt, and cream, and dishing them up on the Thanksgiving table. Today, Americans continue to enjoy potatoes and sweet potatoes with their families on the November holiday each and every year.

These are just some of the many side dishes served on Thanksgiving. While these meals are great to enjoy, the holiday is about more than just enjoying what you eat. It's also about being thankful for the things you have, and those around you. I think we can all agree with High School West sophomore Sydney Levinton when she says she loves the holiday because it "allows [her] to express how grateful [she is] for [her] family and spend time with them".