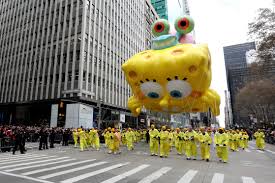 In 1621, a group of Pilgrims unknowingly created what would become one of the biggest holidays of the year. Every November, people across America meet with their family and friends to celebrate Thanksgiving. Over the years, many cultural traditions have become popular, such as eating turkey, playing football, and the major annual parade that takes place in New York City.
This parade consists of several floats that are shaped like famous characters from the previous year. People would line the street to watch the floats pass by, but in the world we currently live in, that is not possible. There has been a lot of talk about how they will be able to pull off this annual tradition. The parade will go on this year, but with many differences to the usual procedure
To accommodate the times, the people running the parade have chosen rules to ensure it will go on as planned. They limited the capacity of watchers to 30% capacity from the normal 3.5 million. The inflation process will also happen privately to ensure watchers will not gather in one place to watch the balloons inflate. The staff behind the parade are really doing all they can to secure a little bit of normalcy for this Thanksgiving. Susan Tercero, the Executive Producer of the Macy's Thanksgiving Day Parade said, "We are pushing for this tradition so that when you wake up Thanksgiving morning, you know what to do. You can turn on the TV. You can rely on us for a little bit of fun entertainment and some relief to what's been going on". 
I asked my mother about her opinion on this year's parade and she told me "As a kid, I used to go to my Aunt's apartment on Park avenue. She lived on a high floor, and we used to go every year to watch the parade. The balloons were at eye level, it was the best! It's sad people won't be able to have those memories this year, though."
The annual parade is a staple of this Holiday, and while it's unfortunate that it must change as all things have this year, it is amazing that they are still running it and giving us that slight sense of normalcy
Source: https://www.ny1.com/nyc/all-boroughs/news/2020/11/20/what-to-expect-of-the-2020-macy-s-thanksgiving-day-parade