Predictions for the 2020-21 NFL MVP Race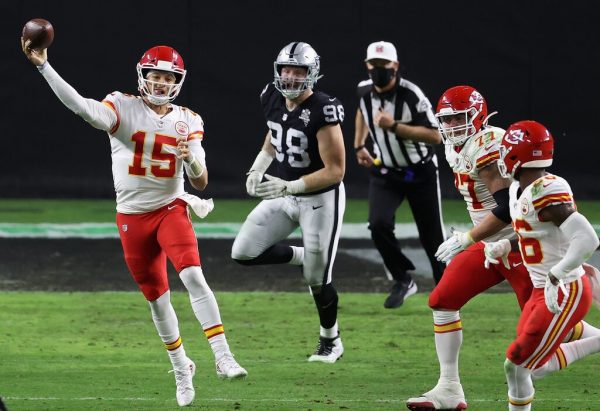 As we wrap up week 11 of the NFL, the MVP race is heating up with multiple players making a strong case for this season's Most Valuable Player.

This season's MVP Race is one of the most exciting in recent memory, and I'll be going over each of the top candidates and giving my pick for the MVP.

Patrick Mahomes

Patty Mahomes is the real deal. The reigning Super Bowl MVP and 2018 MVP is showing no signs of slowing down with a 9-1 record following his brilliant performance over the Raiders this week, avenging their only loss this season. The chiefs were down late in the fourth quarter, but a tremendous push by Mahomes for 75 yards in just seven plays helped seal the deal for this red-hot Kansas City Squad

Mahomes season has been filled with stellar performances over tough tough teams such as the Bills, and the Ravens

Mahomes only has two interceptions this season, has the most passing yards, and is third in touchdowns

Mahomes has a stacked receiving core with plenty of firepower, featuring the lightning fast Tyreek Hill, and the seemingly unstoppable Travis Kelce.

Mahomes has some tough matchups ahead of him such as Tom Brady's Buccaneers and the always formidable New Orleans Saints, but if Mahomes keeps playing the way he has been, finishing out the season with those two wins may just be what he needs to Help him secure his second MVP award.

Russell Wilson

In a very similar manner to last season, Wilson led the MVP race early on in the season, but was slowly overtaken by a younger QB, as his performance started to decline while other quarterbacks soared.

After strong performances through week six with 19 touchdowns and only two interceptions, Wilson threw 3 picks in a close 34-37 loss to the division rival Cardinals. After a strong performance against the 49ers in week eight, Wilson again struggled in weeks nine and 10 with tough losses against the Bills and Rams where Wilson threw 4 interceptions and fumbled the ball three times, while only throwing for 2 touchdowns.

Luckily for Wilson, he avenged his previous loss to the Cardinals this week, throwing for two touchdowns and no turnovers, in a 28-21 win, lifting Wilson and the Seahawks over Kyler Murray's Cardinals, and placing them at the top of the NFC West

That victory was just what Wilson needed to help him stay in the race, as many felt that the Cardinal's first win over the Seahawks put Murray above Wilson in the MVP race. It also put Wilson in the lead for passing touchdowns

The Seahawks have a fairly easy schedule coming up, with most of their remaining games being against teams they should be able to handle ,and if they avenge their previous loss to the Rams in their week 16 matchup, Wilson can make a strong argument for MVP this season

Aaron Rodgers

Aaron Rodgers has been one of the most consistent quarterbacks this season, although the packers are starting look a bit shaky

Rodgers has been a fantastic quarterback for most of this season, with the exception of his performance against Tom Brady and the Buccaneers where he threw for 2 interceptions with no touchdowns.
Rodgers has the highest QB rating in the league at 115.8, and is second in passing touchdowns. Up until week 10, he only had two interceptions with a whopping 24 touchdowns, although some recent performances may be hampering his stakes in the MVP race

Rodgers had been on fire, despite injuries holding back his receiving core. When his top three receivers are healthy, which has only been the case for a few games this season, the packers average over 40 points per game. His most notable connection this season being with Davante Adams, who is one of the league's top receivers this season.

After a very win against the 1-9 Jaguars that many felt was too close for comfort, the Packers were taken out by the Colt's in a razor thin 34-31 game that came down to a field goal at the last second. Although Rodgers didn't perform terribly in these two games, he threw two interceptions, which is equal his total interceptions from the past 8 weeks

Despite the recent shakeups, the Packers still hold a large lead in the NFC North, and if Rodgers can rise to the occasion and lead his team against the tough Tennessee Titans, as well as the rest of their fairly easy schedule, Rodgers can lead his team to an NFC North Title with a convincing argument to call his own.

Kyler Murray

After Murray saw a surge in MVP predictions after his win over the Seahawks in Week 7 and his incredible Hail Mary play to Deandre Hopkins to take down Josh Allen and the Bills, he seems to be falling behind in the race, after the Cardinals were beaten by a fired up Seahawks squad.

At a quick glance, Murray's stat lines don't seem to be near what the other quarterbacks have put up this season, but for a true dive into what makes Murray special, you have to look at his rushing stats.

Murray leads the league in both rushing yards(619), and rushing touchdowns(10) for quarterbacks. He is doing better than last season's rush-loving MVP Lamar Jackson in both of these stats this season, and he's even doing it with less rushing attempts than Jackson. Against Miami in week 9, he put up over 100 rushing yards with an additional rushing touchdown.

Unfortunately for Murray, he came up short in the rushing department in the week 11 loss against the Seahawks as his uncharacteristic 15 rushing yards weren't enough to propel the Cardinals above the Seahawks.

As of now the Cardinals sit at 6-4 at third place in the NFC, which Murray shares with the Rams and Seahawks.

It doesn't look like Murray can make a convincing argument at this point in the season, as his hot streak riding off his big wins against Russell Wilson and Josh Allen was just put out, and the Cardinals have to face the Rams twice in their upcoming weeks. With some less than stellar performances against the Lions and Panthers early in the season, a disappointing loss to the Seahawks, and a tough schedule featuring a double dose of the Stellar Rams defense, it doesn't look like Murray will be able to hold a candle to the rest of the quarterbacks in the race this season

My Pick

This MVP race has been one of the most exciting in recent memory, with loads of talent across the board which has made this season a joy to watch as I've seen some absolutely incredible performances on the field this season. That said however, there is one player that I think deserves the MVP award, and that player is Patrick Mahomes

Mahomes is coming off of a Super Bowl win and is showing zero signs of slowing down. The Chief's offense has looked great this season, and the 25 year old Mahomes has risen to the occasion many times when his team has needed him the most

Mahomes' leadership, as well as his arm and throwing ability has catapulted the Chiefs to a 9-1, record, with their only loss being avenged on a thrilling SNF matchup where Mahome's heroics late in the game helped the Chiefs secure the win after being down with little time to spare.

Mahomes has been incredibly consistent this season, with only two interceptions, as well as wins over some top tier teams such as the Ravens and the Bills, along with the most passing yards this season.

Overall, Mahome's statline, leadership, and team record give him what is in my opinion, the most deserving resume for this season's MVP Award