Thousands of Anti-Trump Protesters Take to The Streets of Major U.S. Cities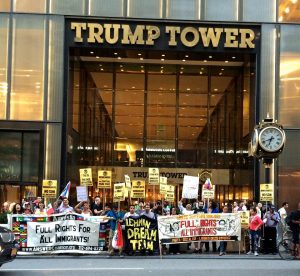 After a surprising presidential election, many people were unhappy with the result. Understandably, people are angry, upset or just plain confused at how the United States elected a person known for calling Mexicans rapists, proposing a ban on Muslims immigrating to the U.S, and threatening to deport millions of undocumented immigrants. To show their discontent with the election results, thousands of protesters took to the streets in major cities across America.
The day following the election in New York, protesters filled the streets in Midtown, Manhattan as they made their way toward Trump Towers, shouting phrases like "not my president," referencing the famous retweet #notmypresident, which has been trending on twitter for nearly a week now. In Los Angeles, demonstrators sat on the 101 and 110 highway interchange, blocking traffic on a major road as police in riot gear tried to get them to leave. In Oakland, 6,000 people blocked traffic, police said. Protesters threw objects at the police, burned trash in the middle of an intersection, set off fireworks, and smashed stores' front windows. Two police officers were injured and two police cars were damaged.  In downtown Chicago, about 1,800 protesters rallied in front of Trump International Hotel and Tower. They were shouting chants like " No Trump! No KKK! No racist USA!", and holding signs including phrases such as, "Enjoy your rights while you can," and "Dump Trump, defend marriage equality." That evening, smaller protests occurred in Austin, Philadelphia, Boston, and Portland, Oregon. The protests mostly included minorities, high school students, college students and professors.
The protests continued into Thursday, although they were less violent and smaller in scale. One of the largest events on Thursday occurred in Denver, Colorado where protesters marched through the state capital. In San Francisco, 1,000 high school students walked out of classes to march through the financial district carrying rainbow flags to support the LGBTQ community. About 100 protesters marched from the White House, where President-elect Trump was having his first transition meeting with President Obama, to the Trump International Hotel several blocks away. By dark, the group grew to about 200 people, many chanting, "No hate! No fear! Immigrants are welcome here!" Trump responded to the protests Thursday night on twitter saying "Just had a very open and successful presidential election. Now professional protesters, incited by the media, are protesting. Very unfair!"
Come Friday, protests were still going strong. In Portland, Oregon, where a protester was shot in the leg during an altercation on a bridge where traffic was being blocked due to his group's antics. In Atlanta, a protester burned the American flag while saying "America was never great," referring to Trump's campaign slogan. Friday night, a huge crowd of people marched up sixth avenue to Trump Towers.
Over the weekend, anti-Trump protests stayed the same in size, but come Monday, their numbers increased tremendously. All over the country, high school and college students walked out of classes. On both coasts, crowds filled with students who want to show that they don't approve of president-elect, Donald Trump. In Los Angeles, students walked out of class en masse holding signs saying "Build bridges not walls," and "No Hate! No Racism! No Trump!"
Most protesters acknowledge the fact that, in electoral terms, Hillary Clinton lost the election, but they still want to show Trump that his policies will be met with opposition. Even though Trump won the election, he only received 46% of the popular vote and these people want to remind him that the other 54% is still very present and very loud, should he choose to ignore them. Donald Trump is going to have to unify the country after one of the most divisive elections ever. Already, he is being met with conflict at every turn.