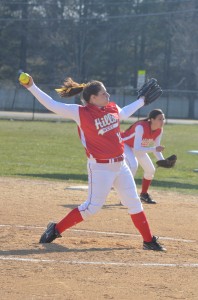 Hills West Girls Varsity Softball finished its 2013 season with a sense of victory as the team claimed the league title after a 3-0 win over Hauppauge this past Wednesday. The team has demonstrated success all throughout the season, as evident by its 15-4 record.
A large proportion of the teams' achievement is dependent upon the success of the seniors players, including Danielle Cardito, Katie Greenough, Jessica Kleet, Carli Manicini, Kara Spinelli, and Kristina Spinelli. However, even with a large number of seniors graduating this year, the team is still confident in their future success.
"I loved being a part of the team this year because we're all so close with each other. I'm going to be upset when the season ends because I've been playing with some of the girls since we were in little league.  It's the last time I will be on a team with them. I will definitely miss this team! There's a lot of talent in the underclassmen and I think they will be successful next year," commented Kristina Spinelli.
"I am so grateful to be a part of such an amazing team this year. It has been a great season so far, and we still have a long way to go! I love all of my teammates and thank them because they have truly made my senior year a year that I will always remember. I think that the team will be extremely successful after the seniors graduate because of the amazing talent that will be coming up to varsity, and especially the talent that will be returning to varsity next year," added Kara Spinelli.
Despite the team's achievements thus far, the season isn't over just yet, as the team hopes to continue their triumph in playoffs.