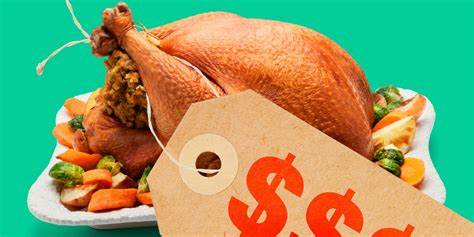 Thanksgiving is one of the most celebrated holidays throughout the year. It is about being thankful for friends and family, but most importantly, it's about Thanksgiving dinner. Thanksgiving dinner has always been costly, but this year the increase in turkey prices has been drastic.
This increase in price is due to the shortage of turkeys. According to Bruce Y. Lee, who is a journalist, "The AFBF survey found that the average price of a 16-pound turkey has jumped from $23.88 last year to $28.96 at present, a leap of over 20%." They say the shortage of these turkeys is due to a new bird disease. "The U.S. Department of Agriculture says a near-record level of 50.3 million birds have been affected by avian influenza outbreaks this year." As you can see, this shows an increase in the price of turkeys due to the avian influenza outbreak. 
Due to this crisis, many families are debating whether to cook or eat out. I interviewed my grandmother Argie, who hosts Thanksgiving every year, and she said, "I was deciding whether or not to host Thanksgiving dinner, but I will so we can all be together as a family." I also interviewed a cashier at a local Stop in Shop, whose name is Rachel Fox, and she said, "I've never had so many people complain to me about food prices before."
As you can see, many people are frustrated with this increase in high prices of Thanksgiving food, but in the end most people end up paying these outrageous prices to be able to spend time with their families and friends on Thanksgiving day.