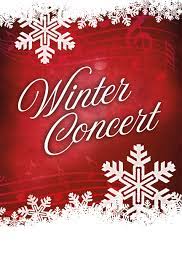 High School West's Annual Winter Concerts took place on December 16 for band and orchestra and December 21 for the choirs. These were the first winter concerts since 2019, and the students involved have been working tremendously hard. Covid has caused many difficulties, especially in the music department. Not being able to work during the pandemic took a toll.
Mr. Foti has been teaching band for 30 years and has done concerts every year, not including Covid. He was disappointed not to have done a winter concert last year and felt that his students shared his sentiments. "It's fantastic we are on the stage for the first time since December of 2019 for a winter concert. It's great to be back on stage even though we are still spread out."
This feeling is shared with all the kids in the music department to have a somewhat sense of normalcy in their concert. Although the students will be spread apart, the music will fill the gaps and bring students together to show off the hard work they've put in.
The chorus teacher, Mrs. Martufi, had been part of the music program at High School West for the past 18 years. She was heartbroken over the effect that Covid has had on everyone, and now with things slowly reverting to how it was pre-Covid, she described it as "the best feeling in the world. "The sense of normalcy is returning to the music aspect of school, and Mrs. Martufi believes that "once we have the first concert under our belt, and out of the way, it's going to be much easier to do more advanced, and challenging pieces.
Mrs. Romeo has taught at High school west as an orchestra teacher for many years. She, too, has done a concert every year, not including quarantine. She was devastated not to do a winter concert and spring concert in the year 2020 and so is very excited now to have her first winter concert since 2019. "I think the kids that have survived Covid in the music program are the most amazing ever. Across the state, they've noticed a massive spike in the number of people who stopped studying privately across the state. Anyone struggling and not doing well on their instrument when Covid hit was forced to do zoom lessons which made it harder for them, and they dropped out.¨
The most significant difference for the orchestra this year is that the symphony orchestra is playing string orchestra literature and not combining with the top band kids to play as a real symphonic orchestra.
Even with all the obstacles, these kids are still pushing and getting better at their instruments. All of these teachers are incredibly proud of all of these students and think they will do amazing this upcoming concert. Good luck to everyone performing in the winter concert!