Christian McCaffrey Strains Hamstring During Thursday Night Football Game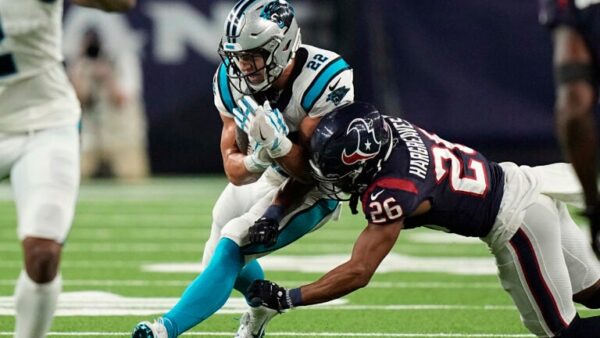 On Thursday night, the Carolina Panthers had a seemingly easy path to victory against the Houston Texans.
The Texans were forced to start relatively unknown rookie quarterback Davis Miller.
Combine this with the number one defense in the NFL and a large amount of momentum from Mccaffrey's previous two games; the Panthers were the overwhelming favorite to win the game, despite being on the road.
But, unfortunately for Carolina fans, this momentum wouldn't last.
Christian McCaffrey appeared to aggravate his leg during a run play during the second quarter and went to the injury tent for a few minutes.
Initially, fans thought McCaffrey would quickly return. However, FOX sideline reporter Erin Andrews broke some bad news for Panthers fans.
McCaffrey injured his left hamstring and would not return during the game.
This isn't the first time McCaffrey has suffered a significant injury. After a historic and incredible 2019-2020 season, in which he was one of, if not THE best running back in the NFL, McCaffrey suffered an ankle injury during the 2020-21 season and only played three games that season.
When asked about the injury, Panthers quarterback Sam Darnold was optimistic that they could continue without him. "We'll be all right without him," the quarterback said. "Obviously, we want him back. But I want him to take his time right now and make sure he's good for the end of the season."
Darnold clearly showed this, as a quick rushing touchdown by Darnold late in the fourth quarter allowed the Panthers to seal the game.
McCaffrey is just as valuable as in the fantasy football world as he is in the "real world," being one of the highest-scoring and most consistent players(when he's healthy), meaning this injury will be a big blow for those that own him in fantasy football this season.
I spoke to one of my fellow roundup staff writers. They owned Mccaffrey in one of his fantasy leagues, Sam Mendelsohn, whos optimistic about the injury and believes it will only be a short-term injury.
"Keep Him," Mendelsohn said. Regarding what players fantasy owners should pick up in the interim, Mendlesohn recommended fantasy owners pick up Panthers running back Chuba Hubbard, "Hubbard is a fine high-end RB2", Mendelsohn said.
On Twitter, numerous other fantasy fans reacted to the news that their first-round pick suffered an Injury, with users sharing various expressing their frustration and anger at the potentially fantasy season-ruining injury.
McCaffrey's injury status for the rest of the season is still up in the air, and football fans and fantasy football owners across the country are hoping this injury isn't anything too severe and that he will quickly recover and bounce back to being the top-tier running back that he is.