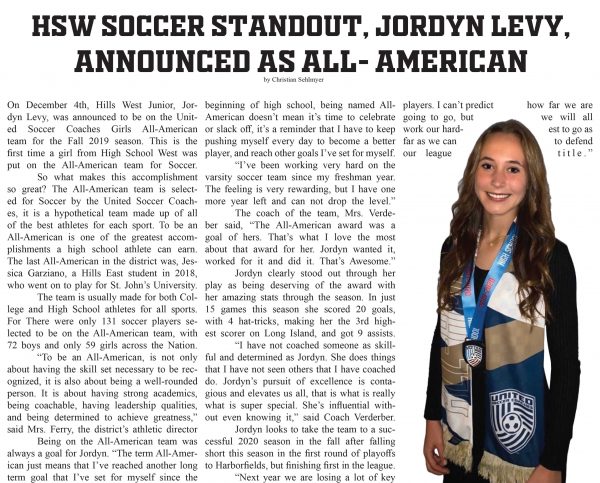 On December 4th, Hills West Junior, Jordyn Levy, was announced to be on the United Soccer Coaches Girls All-American team for the Fall 2019 season. This is the first time a girl from High School West was put on the All-American team for Soccer.
So what makes this accomplishment so great? The All-American team is selected for Soccer by the United Soccer Coaches, it is a hypothetical team made up of all of the best athletes for each sport. To be an All-American is one of the greatest accomplishments a high school athlete can earn. The last All-American in the district was, Jessica Garziano, a Hills East student in 2018, who went on to play for St. John's University.
The team is usually made for both College and High School athletes for all sports. For There were only 131 soccer players selected to be on the All-American team, with 72 boys and only 59 girls across the Nation.
"To be an All-American, is not only about having the skill set necessary to be recognized, it is also about being a well-rounded person. It is about having strong academics, being coachable, having leadership qualities, and being determined to achieve greatness," said Mrs. Ferry, the district's athletic director
Being on the All-American team was always a goal for Jordyn. "The term All-American just means that I've reached another long term goal that I've set for myself since the beginning of high school, being named All-American doesn't mean it's time to celebrate or slack off, it's a reminder that I have to keep pushing myself every day to become a better player, and reach other goals I've set for myself.
"I've been working very hard on the varsity soccer team since my freshman year. The feeling is very rewarding, but I have one more year left and can not drop the level."
The coach of the team, Mrs. Verdeber said, "The All-American award was a goal of hers. That's what I love the most about that award for her. Jordyn wanted it, worked for it and did it. That's Awesome."
Jordyn clearly stood out through her play as being deserving of the award with her amazing stats through the season. In just 15 games this season she scored 20 goals, with 4 hat-tricks, making her the 3rd highest scorer on Long Island, and got 9 assists.
"I have not coached someone as skillful and determined as Jordyn. She does things that I have not seen others that I have coached do. Jordyn's pursuit of excellence is contagious and elevates us all, that is what is really what is super special. She's influential without even knowing it," said Coach Verderber.
Jordyn looks to take the team to a successful 2020 season in the fall after falling short this season in the first round of playoffs to Harborfields, but finishing first in the league.
"Next year we are losing a lot of key players. I can't predict how far we are going to go, but we will all work our hardest to go as far as we can to defend our league title."