Boys Return to a Familiar Stage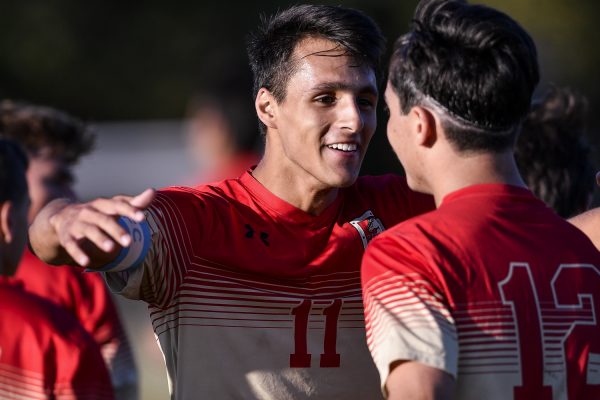 After falling in the league title game, the boys are ready and excited for this year's playoffs, with a 12-2 regular season record.

Hills West boys varsity soccer team's season ended with an anticlimactic tie to Hauupauge, a team they had beaten 3-1 just a couple of weeks prior. Despite the draw, Hills West will once again be taking part in their league's playoffs after a season that showed Hills West's varsity team is still competitive.

Although they lost several seniors last spring who were vital to their success last year, Hills West's varsity team reloaded and looked to the future. This ended up working better than anyone expected as evidenced by the playoff spot they clinched days before the playoffs would start. Hills West is continuing to look forward as they gear up for another potentially deep playoff run.

Sophomore Spencer Bernak said that one of the biggest keys to the playoffs is the return of starting goalie Mike Lee. "We have lost a few players unfortunately due to injuries, but so far we have gotten our starting goalie back which is a big help." Losing players to injury will always have an effect on a team, whether it be on the field or mentally. Still, the boys have taken it in stride and have cultivated a good season despite these setbacks.

The offense needs to keep scoring goals the way they have throughout the season. The boys have scored an average of about three goals a game, including several occasions where they have netted five or more goals in blowout victories.

We also spoke to the team's top scorer and the #11 scorer in Suffolk County, Issah Khanat. Teamwork and team chemistry will play a large role in advancing the boys far into the playoffs this year. "We just have to play as a team and work hard to achieve these goals." He also talked about how the team isn't just a team, but a family with a deep and powerful bond.

"What people should understand is that Hills West Soccer is not just a high school team. It's a family and everyone bonds with each other and we always have each other's backs no matter what, in-season or in the offseason." Isaah really stressed the fact that Hills West's team is a brotherhood. He talked extensively about how they continue to work off each other and go out every game and work for each other. It's not just a team to any of them, it's much more.

Both players we spoke with noted that there aren't just a few key players, but their whole lineup is integral to performing well in this years playoffs. "Everyone on the team is a key player coming from the starters to the bench mob. Everyone brings energy to the team that we need."

The Colt's only losses came at the hands of Kings Park and Harborfields, by scores of 0-3, and 1-2 respectively. Even though West lost to both Kings Park and Harborfields at the end of the season, they saw some success against these teams earlier in the season, recording a 2-0 win against Kings Park and a hard-fought tie against Harborfields.

With only two losses on the season, it is no wonder that West is shaping up to be one of the league's best teams going into the playoffs. They are one of the most talented teams in the league, with an explosive and systematic attack led by Issah Khanat with 22 points this season and Jonathon Bragoli with 16. They are accompanied by a lockdown defense that hasn't allowed more than three goals in any of their games this season.

Start off your Halloween by supporting the boys this Thursday as they take on Sayville.