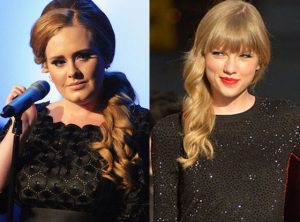 As technology advances and twenty-first century masterminds help make human life more connected, new and improved ideas for social media, electronics, and music are created.
One example of this includes Pandora, a site that plays songs based on someone's recommendations, but doesn't allow them to choose what they listen to. Another music-streaming network is Spotify, whereas listeners can specifically choose each song without having to download anything. Apple Music does the same.
All of these sites require people to pay to listen to great quality music, but some artists, like Adele and Taylor Swift, refuse to let their original copyright tunes on these and other similar sites.
The successful musicians believe that music-streaming websites are stealing their well-earned wealth. People are paying to use the websites rather than buying an artist's albums or going to their concerts, which does not make them cash. As a result, Adele and Swift have pulled their music from the popular sites.
Taylor Swift has ended her relationship with Spotify and Adele has done the same. Swift's songs are still available to subscribed and paying fans on Apple Music. "Apple treated me like I was a voice of a creative community that they actually cared about," she told magazine Vanity Fair.
If someone wants to tune to Adele's new album, 25, or Taylor Swift's 1989, they must either listen to the old-fashion radio, or buy the physical albums or their songs from iTunes.
By setting up these boundaries, both singers have set new heights in album selling. In the first week alone, 25, released November 20, sold 3.38 million copies worldwide. According to reporters, Adele's bans have encouraged the general public to buy the album, instead of music-streaming it. She had beaten the old record for the most albums sold in the week of release, which was held by  'N Sync's "No Strings Attached," selling over 2.4 million copies in the US back in 2000.
Swift's 1989, meanwhile, sold almost 1.3 million albums in its first week, when it hit stores in late October of 2014.