The Black Mamba.
Five Rings, Two-Time NBA Finals MVP, 2008 NBA MVP, 17 Time NBA All Star, Two-Time Scoring Champion, 4 Time All Star Game MVP, 2 Time Olympic Gold Medalist, and the list goes on and on.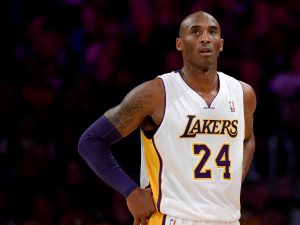 Kobe Bryant, who is in the midst of his 20th season with the Los Angeles Lakers, and he recently announced on The Players Tribune that he will be retiring at the end of the season. Without a doubt Kobe will go down not only as one of the best players of our generation, but one of the best players to ever play the game.
He was born on August 23rd, 1978 in Philadelphia, Pennsylvania, and he attended Lower Merion High School, in Ardmore, Pennsylvania. Initially, he was drafted 13th overall in the 1996 NBA draft by the Charlotte Hornets, but then in one of the most lopsided trades in NBA history, the Lakers traded Vlade Divac to the Hornets for the rights to Kobe Bryant. He went straight to the NBA out of high school, and in his first season, he won the NBA dunk contest. But those would be the least of his accomplishments on the court. Since his second season in the NBA, Kobe has been voted to start every All Star Game. After Shaquille O'Neal was traded to the Lakers to be by Kobe's side, the Lakers would go on to dominate the league. The Lakers won three straight NBA championships from 2000 to 2002. Kobe and Shaq would be the leaders each of those teams, and even though Shaq went on to win all of those NBA finals MVP's, Kobe was just as vital to each of those teams.  But that relationship did not last very long. After a feud between Kobe and Shaq, O'neal was traded to the Miami Heat in 2004.
That would signal the start of playoff troubles for the Lakers, as they wouldn't get out of the first round until 2008. Then, the Kobe magic would be back. They would go on to lose in the finals to the Boston Celtics in 2008, but then in 2009 and 2010 the Lakers would win back to back championships, making Kobe a five time champion. These final two championships cemented Kobe as one of the greatest players, and leaders in NBA history. In the 2009 NBA finals, when the Lakers beat the Orlando Magic 4-1, and Kobe would win his first finals MVP. He averaged 32.4 points per game, 5.6 rebounds per game, and 7.4 assists. Then in 2010, in his last NBA finals appearance, he won his second MVP. The Lakers beat the Boston Celtics in 7 games, and Kobe averaged 28.6 points, 8.0 rebounds per game, and 3.9 assists.
Sadly, Kobe's career won't come to a championship finish. The Lakers are built around a young core and the leadership of Kobe, but won't contend this year. His career has also come to an injury riddled end. In 2013, he only played 6 games. He had a fractured tibia to start the season, and then his season came to an end because of his achilles injury. In 2014, his season was limited to 35 games because of a rotator cuff injury, that he was forced to get season ending surgery on. Now in his last NBA season, Kobe is just trying to get through it healthy. He will most likely be voted into his 18th straight All Star Game. And 2016 will mark an end to a legendary career.